After we had our fill of culture and man-made wonders in Florence we went for the complete opposite: hiking the spectacular mountains of the Dolomites. We nearly didn't go because it was a long way from all the other places we were going to go, and public transport is a bit iffy outside of the peak summer season.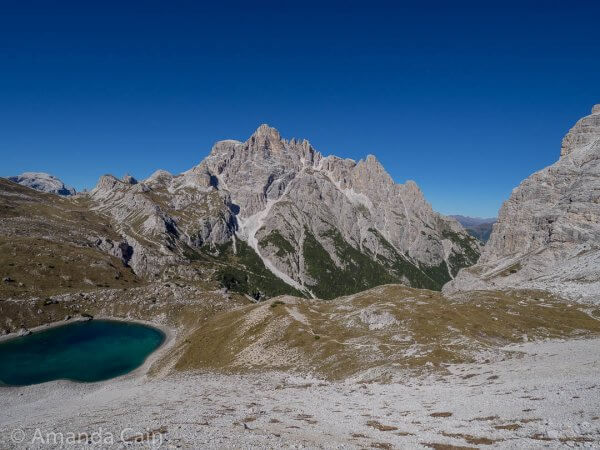 To Go Or Not to Go
A week before we jumped on the plane I declared to Pedr that it was too hard and we'd do it another time & spent the whole morning rejigging our itinerary. Then, after sleeping on it I declared that we WERE going to go and then spent another morning rejigging the itinerary again. So we would have a couple of extra days to deal with the transport difficulties. But we're very glad that we went, because it turns out that the Dolomites have some of the most epic mountain scenery we've ever seen, and we've seen a bit now. (Torres del Paine, Atacama Desert, Mount Fitzroy, Inca Trail, and Lake Titicaca to name a few.)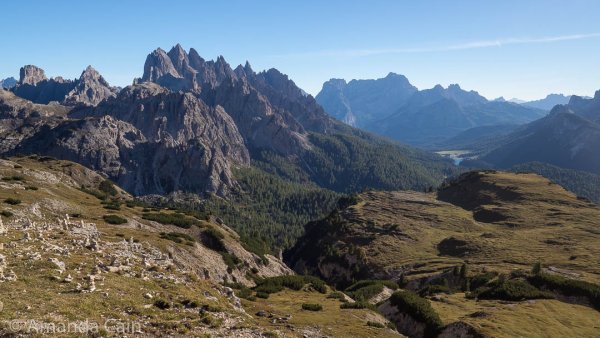 Getting There
It took us two trains and three buses to get from Florence to the refuge (the basic accommodation in the national park). And when we got into the mountainous region the views just got better and better as the bus went along. Once we got to the refuge we were above the trees and all we could see were rough jagged mountains sticking up into the sky everywhere we looked. We probably spent half an hour outside the refuge admiring the views before we finally started hiking.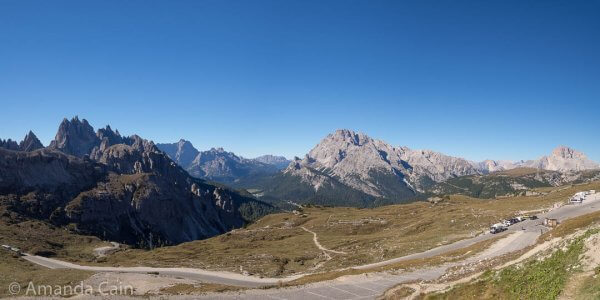 Tre Cime: The Iconic Trail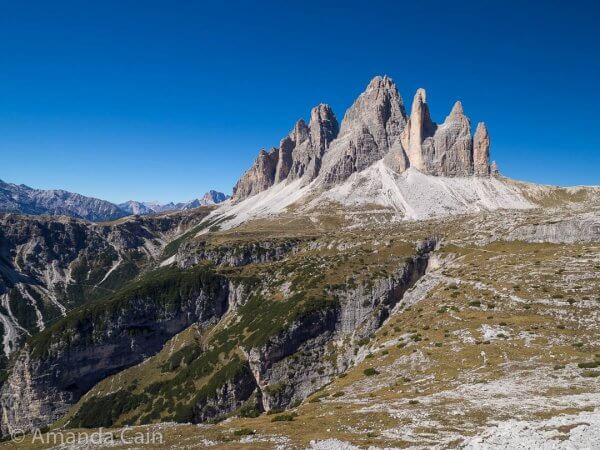 When I was researching where to go hiking in the Dolomites I was overwhelmed by all the options, so I turned to Google Image Search to narrow down the options and decided on the Tre Cime region because of the iconic "Three Peaks". They're pretty damn impressive; three tall formations sticking up out of the (relatively) flat ground like a giant's fingers reaching out from the earth.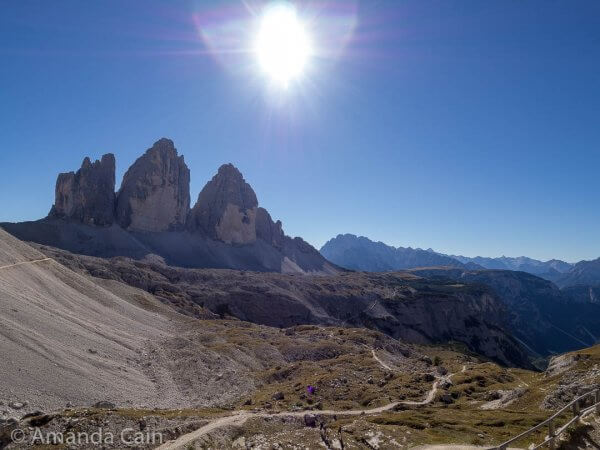 The beginning of the trail starts at the refuge, which is handily located right at the base of the peaks. So you can admire them right from the beginning. They also completely dominate the scenery when you're walking along the main loop.
A Paradise for Dogs?
As we walked along the trail we saw so many dogs going for walks. And not just big working dogs like German Shepards. We also saw a small westie, some sausage dogs, and even a well-groomed poodle. (By the way, it's not a short 30 minute walk, the full loop is about 10km.) But all the dogs looked like they were having a great time.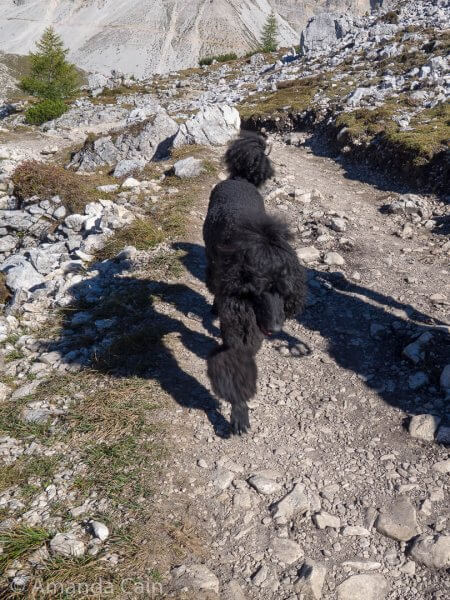 Endlessly Spectacular Scenery
The area has hiking trails criss-crossing all over the place so it's easy to duck off the main path and explore other areas before heading back to the main path. One of our little explorations lead to the world's most scenic Jenga game.
It doesn't seem to matter which paths you take here, every trail leads to ridiculously scenic views. Just around every bend, behind every rock formation, or on top of every crest is stunning sight after stunning sight.
Refuges Make Hiking Civilised
Lunch is also pretty amazing. You can bring a picnic lunch and just unpack it wherever a nice scenic view appears (which is pretty much everywhere). Or you can hike to different refuges along the trails and have a hot cooked lunch and beer/wine also with great views (some are as close as 30 minutes hiking apart). You can also sleep at the refuges if you want to do a long multi-day hike from one side of the park to the other side. It's a pretty neat way of hiking. Sleeping in a real bed with proper toilets and food cooked in a kitchen, definitely a win. So now we're thinking of trying it one day!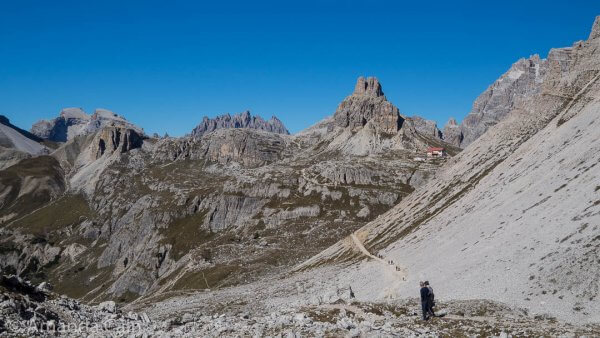 The main loop is supposed to take about 3 hours, but because we kept stopping to take photos and admire the view (and taking a few side detours), we didn't get back until a bit before sunset. But we got there in time for some incredible sunsets over the valley with the villages.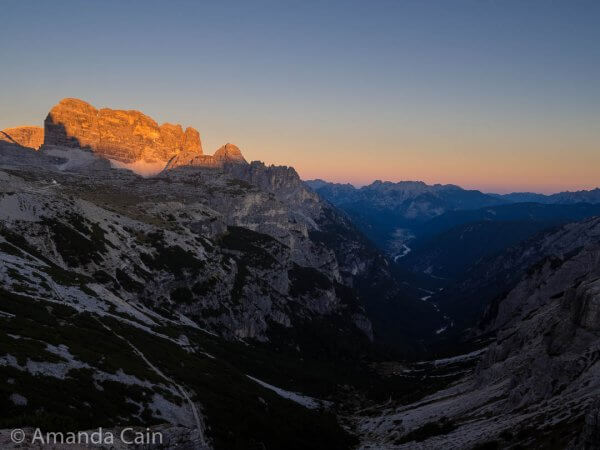 Something a Bit More Challenging
We originally planned to do the loop around Tre Cime on our second day since we would have a full day to hike it. But since we finished it the previous day we decided to pick some new trails to explore. From our giant Jenga viewpoint we did see a trail heading up to a high ridge (that also had a refuge) so we thought we'd head up that way. We had no idea what we were going to see that way, but it turned out to be even more breathtaking than Tre Cime.
The Up That Never Ends
So we knew that we were going to have to hike uphill to get to the refuge, we'd seen it the day before. What we didn't know was that where we thought the uphill finished wasn't the top. There was more. A lot more.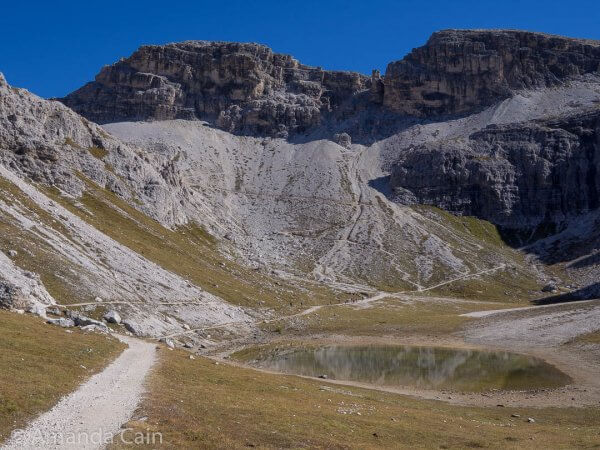 After our rest we were energised and ready to tackle the remaining uphill. We probably stopped five times up the hill before passing through a rocky gap to the top. Except it wasn't the top. It was another false summit (or fummit as we like to call them). It was about this point that I started to hopefully look around for a gelato shop to offset my disappointment…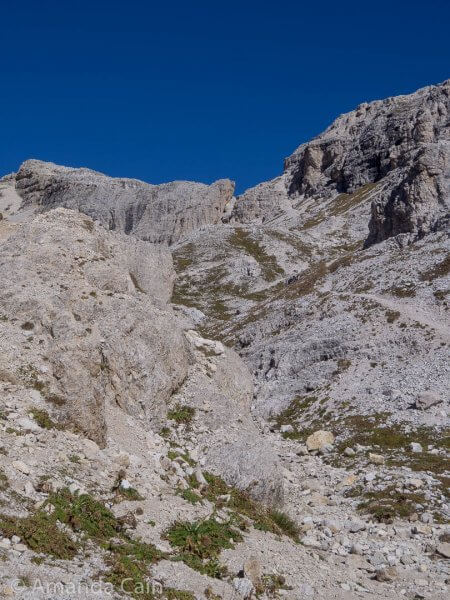 We couldn't really justify cracking out our lunch since it hadn't been that long since we stopped for morning tea, but I still had some chocolate to make me feel a bit better.
View From the Top
After more huffing and puffing we finally made it to the ridge (to be fair, we were nearly 2500 metres above sea level). And the views did not disappoint. Within five minutes walk along the ridge we were able to see all these views.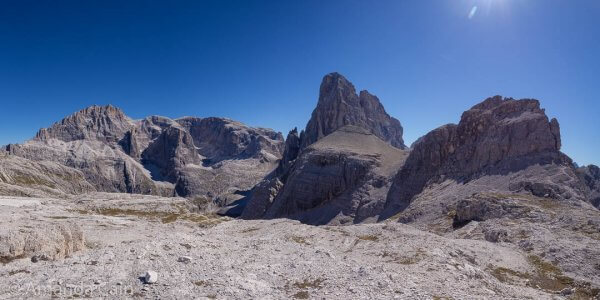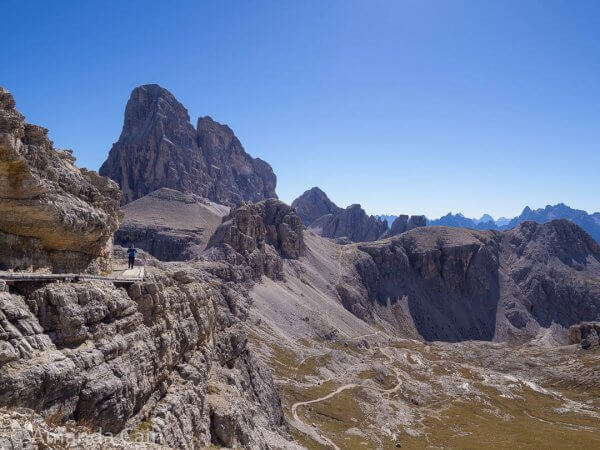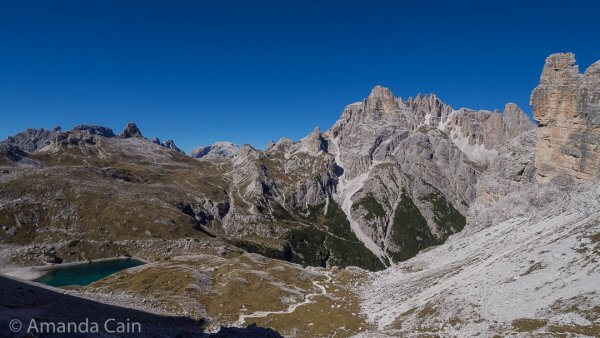 While we were on top of the ridge we saw some lazy/rich people get dropped off in a helicopter. (We shook our fists at them angrily.) After we soaked in the stunning views (and the fist shaking), it was time to head down the other side of the ridge towards the turquoise alpine lake and back "home" to our refuge. Once we got to bottom we could even see paragliders flying around in between the mountains.
Even the fairly flat walk back to the refuge was full of more incredible scenery: more blue mountain lakes, steep and jagged mountains all on one side, giant white limestone boulders lying around in groups that made them look like some unexplored ruins from Ancient Greece.
I don't think we've been to a place that has this much variation in the scenery in such a compact area. A lot of the other hikes we've been on don't have the same quantity of changing scenery in between the spectacular sections. But here, you only have to walk for half an hour and you get a completely different view. We definitely recommend it to everyone (there are sections that are relatively easy so you don't have to be that fit to see the fantastic scenery).
Finishing Up With Food
Some people have said that Pedr didn't look like he was enjoying his nice truffle dinner in Florence. Clearly it wasn't as good as his giant pile of carrots he had for dinner at the refuge. (He's also happy because they're full of moisture. Bottled water cost €4 per bottle, and no potable water available in the taps, so we'd been rationing how much water we drank.)