I had a few more posts on Central America planned, but ran out of time before we left for the next leg of our trip in Europe. So to keep the blog more or less current I'll jump ahead to Italy and get back to Central America later.
Why Go Back to Italy?
We picked Italy as a country to go back to because it's one of our favourites and our birthdays were coming up (including Pedr's 40th). So for our birthdays we decided to go back to one of our favourite cities: Florence. We had been there nine years ago and fell in love pretty much straight away. So when we were planning our Italy trip we knew we wanted to go back and stay for longer.
Beautiful Florence
Florence is a very beautiful old city; full of yellow and cream coloured houses with red terracotta roofs and green window shutters. It's sort of the stereotypical old Italian town you've probably seen in plenty of photos.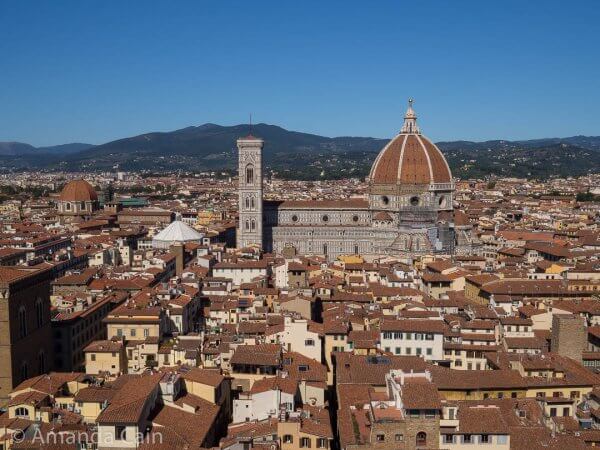 Florence's Churches
Duomo
The houses aren't the only beautiful buildings in Florence. There are the churches of course (it is Italy after all). Florence was a very rich city so they have some extravagantly decorated churches covered in expensive white Carrara marble. The cathedral of Florence, the Duomo, is completely covered in shining white, green and pink marble and is so big you can see it from almost anywhere in the town. (It also helps that the authorities have prevented any tall modern buildings being built in the centre of Florence, so it looks the same as it has looked for centuries.)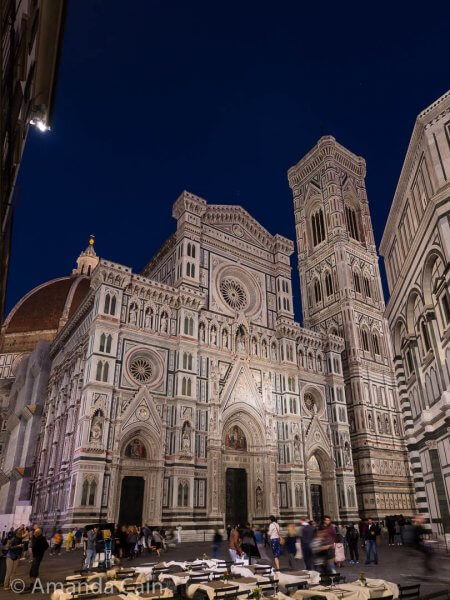 The outside of the Duomo is much more extravagant than the inside. The inside is surprisingly plain. Except for the inside of the dome, which is covered in one giant painting of the Last Judgement. (The dome is 115 metres tall and 44 metres across.)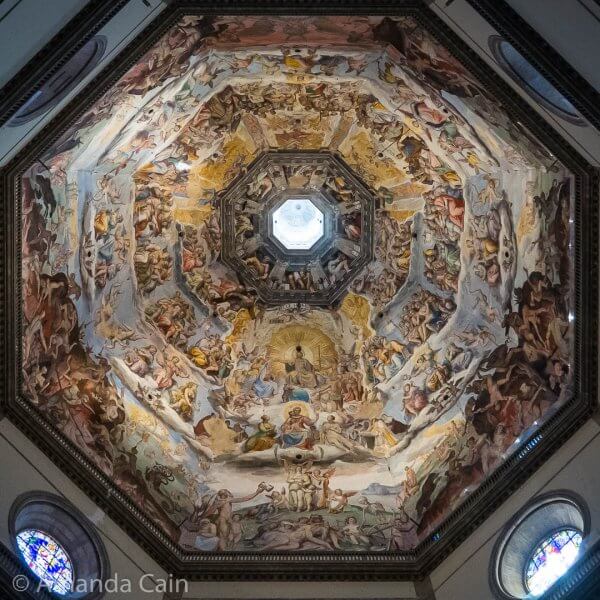 Santa Croce
Another beautifully decorated church is Santa Croce which is covered in paintings all through the inside. This is what a lot of Italian churches from the early Renaissance and medieval times looked like on the inside.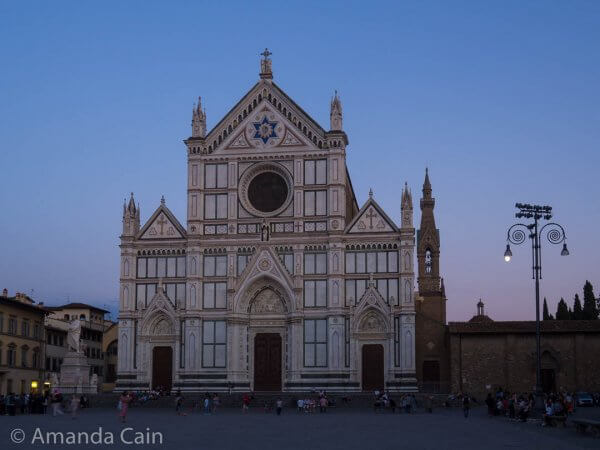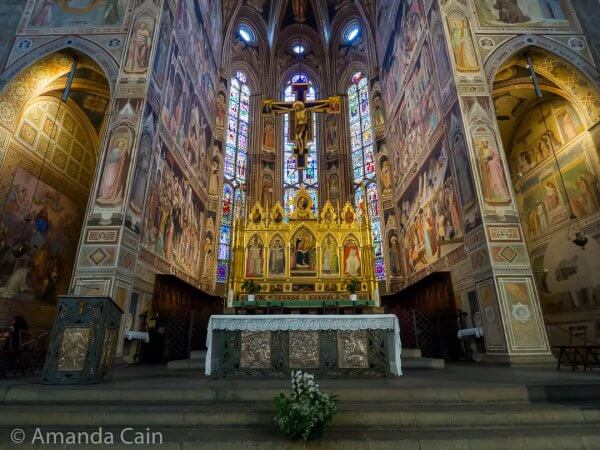 It also has the tombs of some very famous people like Michelangelo, Machiavelli and Galileo.
The story of Galileo's burial is interesting. Galileo was supported by the Medici family (the ruling family of Florence) and they appreciated all the scientific work he had done for them over his lifetime. So when he died, the Grand Duke of Tuscany (Ferdinando II) decided to build him an extravagant tomb next to other members of the Medici family. But because Galileo had been condemned by the Catholic Church (for saying something crazy like 'the Earth revolves around the Sun'), the pope told Ferdinando that he couldn't give Galileo the burial he wanted. So instead, Ferdinando hid Galileo's remains in a tiny back room in the church.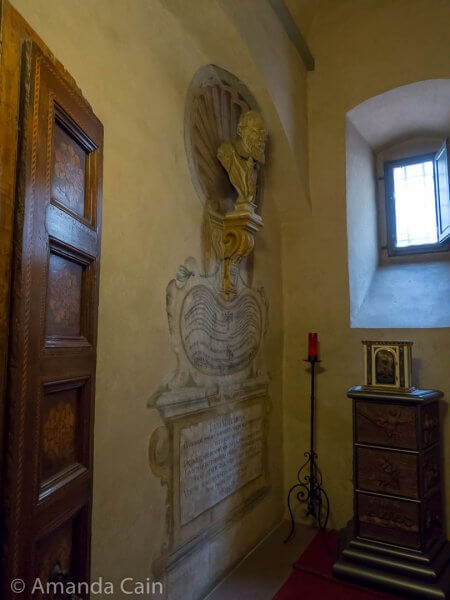 After nearly 100 years the Medici family were finally able to build the grand tomb for Galileo. So he is now buried in the main section of the church. Fun fact: when they reburied Galileo in his new tomb they removed his middle finger, which is now on display in the Galileo Museum. So now he's permanently giving the Church the finger long after his death.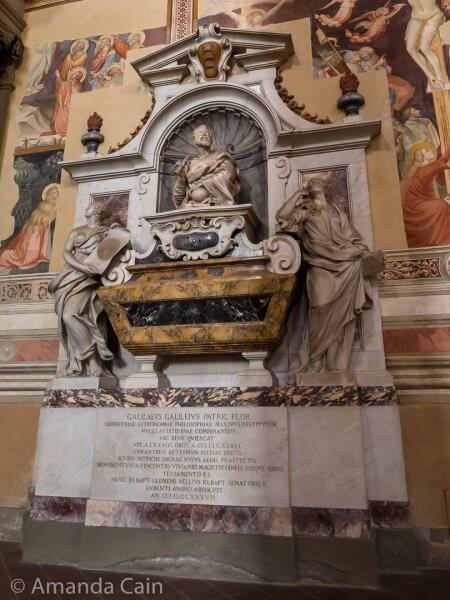 Medici Chapel
This chapel was built to honour the ruling Grand Dukes of the Medici family (but no-one's actually buried in any of the monuments). From the outside the chapel doesn't look like much. But once you get inside it's jaw-dropping. Every single surface is covered with semi-precious stone in different colours and patterns. (None of that "cheap" Carrara marble anywhere in sight.) We've seen tables and cabinets decorated like this in French palaces, but to see a huge chamber covered in these stones really shows how ridiculously rich the Medici family were.
Florence's Palaces
Palazzo Vecchio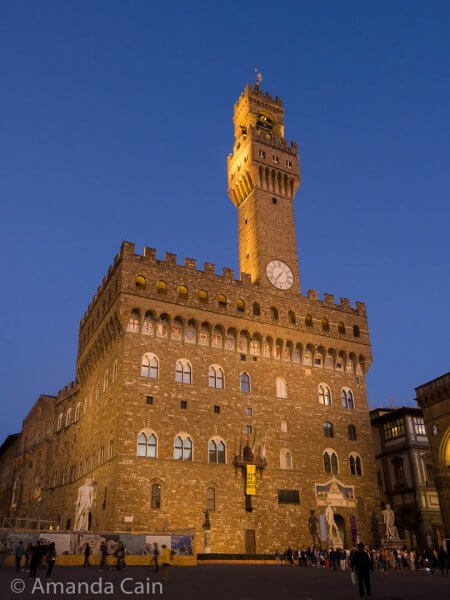 This is a pretty cool medieval castle/palace in the centre of Florence. It was used by the rulers of Florence as their headquarters for 250 years. While the outside is medieval-looking, the inside is full of Renaissance paintings and decorations.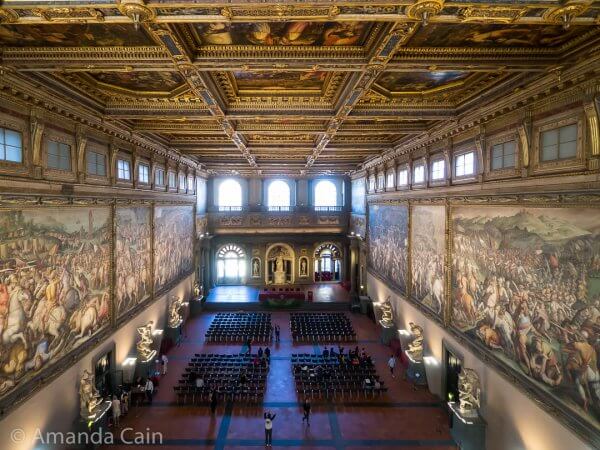 One of the more interesting paintings is in the enormous "Room of 500" where the city council met. On the wall is a painting called the "Battle of Anghiari". What's interesting about it is that behind it some people think that there is a painting by Leonardo da Vinci. Leonardo never finished the painting and they think that when the new artist that took over the job, he protected the original painting and left clues behind for people to find it.
A few years ago art historians did some very limited testing and discovered that there is a space behind the current wall, so that the second (newer) painting is actually on a false wall. And on the surface of the real wall are paint pigments that are the same as those used by Leonardo da Vinci. Because they would have to damage the second painting to get to the Leonardo painting, there are no plans to go ahead with any further investigations. But with new technology it may be possible one day to see what's underneath.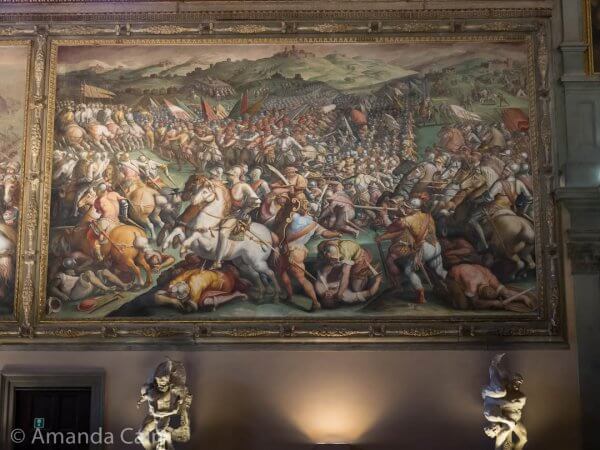 Palazzo Pitti
During the reign of Cosimo I, Florence became very rich and powerful. And during this time Cosimo moved his headquarters first to Palazzo Vecchio, and then when that wasn't good enough he moved it to Palazzo Pitti. Part of the reason was to have a palace that was grand enough for the Medici rulers, who considered themselves the equals of the kings of France and Spain.
After the seeing the great palaces and riches of the kings and queens of France and Spain, we didn't think the Medicis (who only ruled a tiny area compared to France and Spain) could compete. But we were wrong. The Medici family didn't rule over a lot of territory, but they were extremely rich because of the family business of banking. So when you go inside the Palazzo Pitti it's full of paintings by famous artists and full of objects made of precious materials like gold, jewels and ivory. One room had at least six paintings by Raphael crammed into a room of 30 other paintings. In most other places in the world, a single painting by Raphael would get a whole wall (maybe even a whole room) all to itself.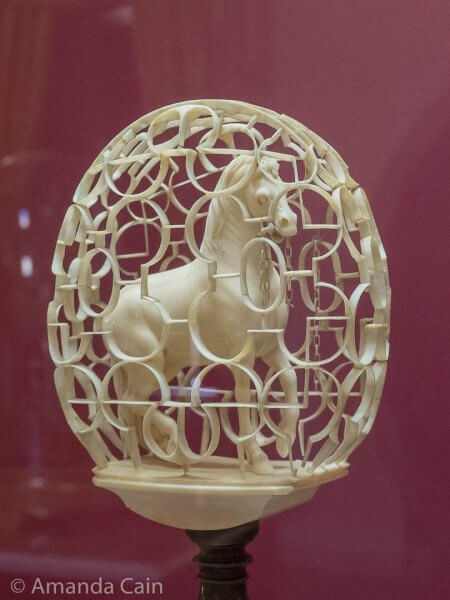 Forget the Precious Objects, This Is More Impressive
But the most impressive are the rooms covered in frescos that were painted to look like the rooms were bigger than they really were. The walls and ceilings were flat or curved, but the paintings make the rooms look like they have balconies, staircases, columns and outdoor scenes all extending beyond the walls and ceilings.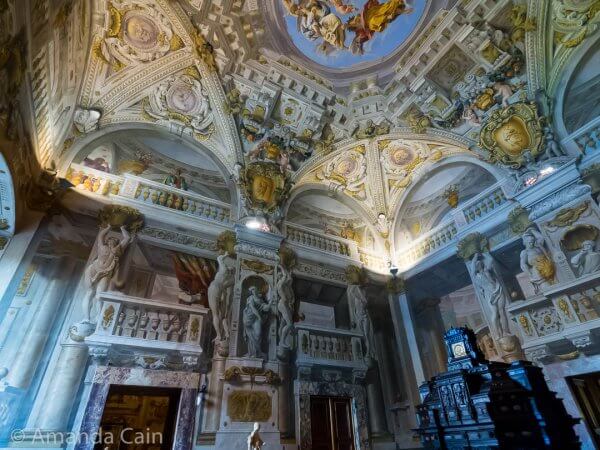 Birthday Celebrations
So what did we do to celebrate our birthdays? For Pedr's birthday we went to a restaurant that we fell in love with last time we were in Florence. It was so good that we went there 3 times in 3 days last time. But it wasn't just the food that was great, the owner and his family were so warm and generous that it really made our meals special. Unfortunately this time around the owner had moved on so we didn't get to see him again. But the food was still good and the chocolate cake was just as delicious as we remembered.
For my birthday we went to a truffle restaurant recommended by our B&B host. It's a tiny hole in the wall place. You can only fit 20 people inside all crammed together on benches. But as soon as you walk in, the smell of truffles envelops you. I could've happily just stood there breathing in the delicious earthy aroma. We ended up getting 3 dishes completely loaded with truffles, including potato chips with truffles on top. Very gourmet!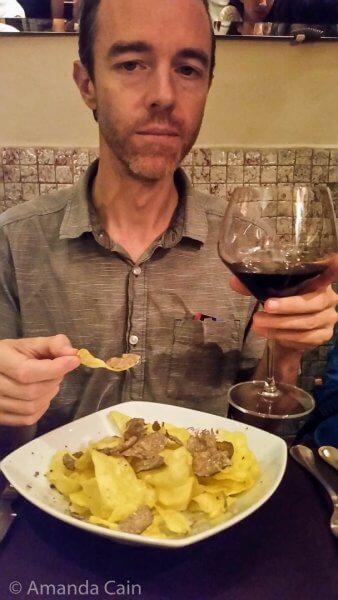 So all in all it was a pretty good birthday celebration, and a good way to celebrate Pedr's 40th birthday (he's officially old now). And yes we're still in love with Florence.