When you read the title of this post, what thoughts came into your mind? Did you think that we were attacked by armed muggers? Or maybe had a close call on the road with a crazy driver? Or caught some kind of weird tropical disease? Attacked by a jaguar in the jungle? Maybe you might've thought that we go too close to Volcan Fuego when it erupted. If you picked that, you're not too far off. We decided to climb Volcan Acatenango, which is the one beside Volcan Fuego, and is where we thought we were going to die.
The Volcan Fuego Eruption
Before I go any further I'd just like to acknowledge this terrible disaster. Over 100 people confirmed dead, and more than 200 still missing a month later. It was needlessly (locals say criminally) made worse because the government didn't order an evacuation until it was far too late. Even though they had enough warning to do so. Fuego regularly rumbles and lets off a bit of steam and lava, but it's not normally a problem. The seriousness of this eruption surprised everyone.
There are accusations that the government delayed the evacuation to try and avoid spending money. Since most of the villagers didn't have the money or resources to evacuate themselves they had to stay and could only hope it wasn't going to be serious. Tragically, this was not the case. But even though there was little initial assistance from the government, it was heartening to see locals working together to try and help those that have been left without homes or livelihoods.
Preparations for the Hike
We were there two weeks after the big eruption. So it had settled down and was actually safer because a lot of the pressure had been released. The tour company said that they were taking people back up to Acatenango one week after the eruption. Why would you want to climb Acatenango? Two reasons. One is to reach the summit at sunrise so you can have a spectacular view over the area with its pointed volcanoes and mountains, and clouds rolling in between them. While you stand there above it all, 4000 metres above sea level. The second reason is to watch the (little) lava eruptions from Fuego. Base Camp, near the summit, has a great view of the top of Fuego so you can sit around the campfire watching lava through the night.
An Indication of Things to Come?
Unfortunately things started to go awry even before we'd set foot on the volcano. While we were chatting with a hotel owner (a US expat) in Lake Atitlan, I mentioned that we were going to to climb Acatenango. His response: "Oh that one? I think that's the place where a bunch of people froze to death." WHAT???
After some frantic googling I found the story. A group of people had climbed up to Base Camp (near the summit) without a guide and without proper equipment. The weather conditions were also bad, and people were being warned not to climb it. But the group went up anyway. During the night strong winds and rain came in and the temperature dropped to -6℃. Because they didn't have good equipment, the freezing rain entered their tent, they weren't able to keep warm and unfortunately froze.
We at least we were going with a guide. And the tour company strongly advertises their safety record. But I still emailed them to check that they were going to provide us with good tents, sleeping bags and extra warm clothes. They assured me that we would be well looked after.
Climbing up Acatenango
At 8:00am our small group of four set off from Antigua for the volcano. From the starting point it didn't look too tall or imposing. How wrong we were.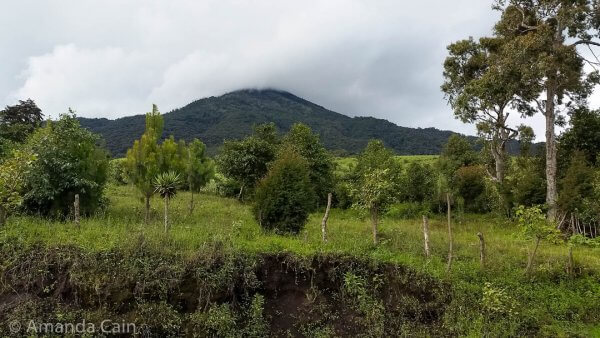 As soon as you start you hike straight up a steep trail through cornfields. Because it's the side of a volcano the ground isn't nice solid hard packed earth. It's loose gravelly rocks and volcanic ash. So you spend a lot of time slipping and sliding backwards as you try to haul yourself up the path. You start the hike at about 2500 metres above sea level, so you also get to add thin air to give yourself an extra challenge. After an hour or so of tough slogging we made it to the first rest stop. From here we got a good view of the valley below the volcano, as well as the volcanoes surrounding Lake Atitlan in the distance. What we didn't realise at the time was that these were the best views we were going to get on the whole trip.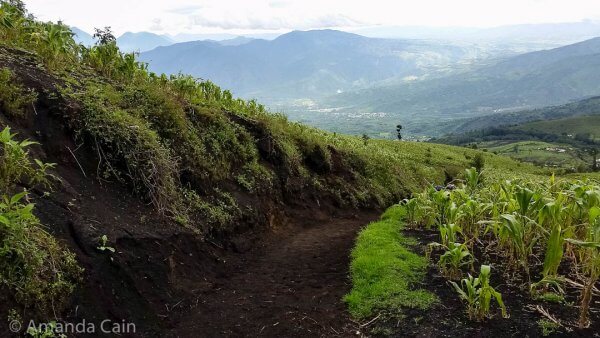 Into the Cloud Forest
After our short stop to admire the view we started our hike into the cloud forest. The cloud forest was exactly what the name says: a cloudy forest. We passed some cool old trees with exposed roots that looked like something out of a fairy tale.
But apart from these there wasn't too much to see as the clouds came in pretty thick, and about halfway up it started raining. We stopped at a rest stop to try and wait it out, making friends with some of the local dogs (who desperately wanted our lunch). But after nearly an hour we couldn't wait any longer and we had to head off into the cold rain and keep hiking up the (still steep) trail.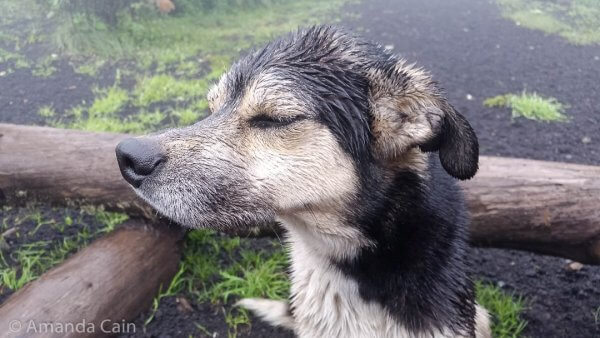 Once we reached the end of the cloud forest we finally got a break from the hard climb. The next section was mostly flat. We also got a break from the rain. Unfortunately the clouds were still hanging around so no views for us. Just dead trees drifting in and out of the misty grey fog. Now it seemed like something out of a creepy horror movie. I wouldn't have been surprised if some guy with an axe jumped out from behind a tree and threatened to kill us at this point.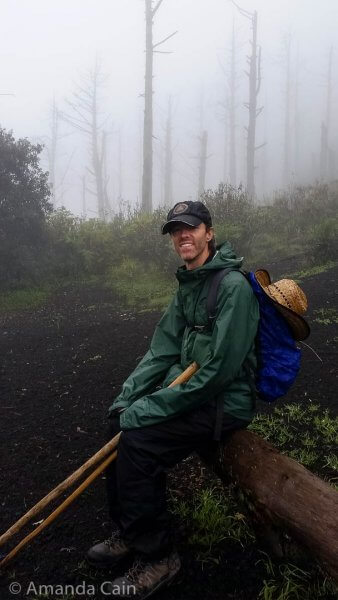 Camp
Sometime around mid-afternoon we finally made it to camp. Our hands and feet were numb and cold, and unfortunately the campsite was exposed to the wind and rain (which also decided to pick up around this time). As soon as the tent was pitched we all dove inside to try and hide from the elements. While we were setting up the inside of the tent the weather let up and we could go outside again. From here we were supposed to have a fantastic view of Fuego, where we were hoping to watch the smoke and lava spit out through the afternoon and evening. But all we got were clouds, clouds and more clouds. Only once, for 30 seconds were we able to see Fuego. That's 30 seconds in our entire 2 day hike.
But at least the loo was scenic. (You did have to make sure that there wasn't anyone on the path below walking past while you were in there as it didn't have a door.)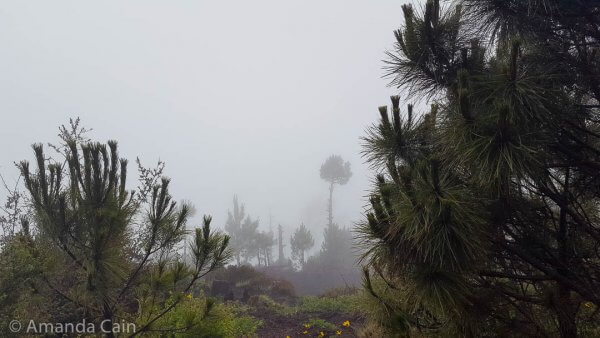 The Night From Hell
We decided to have an early dinner since it wasn't raining and our guide wasn't confident on the weather. We're lucky we did because about 5 minutes after serving up dinner, the rain came back and we had to abandon the wonderfully warm campfire and huddle back in our tent.
Once we finished our food we tried to get an early night, since we needed up be up a few hours before sunrise to hike to the summit. After climbing into my sleeping bag I noticed that the warm stuffing was missing in a few places. Because we had to abandon the campfire early, I didn't get the chance to fill up my water bottle with hot water to put in my sleeping bag (a really good trick to keep warm). So even though I was all rugged up in all the clothes I had (plus extras from the tour company) I still felt chilly. But somehow I managed to eventually drop off.
Here Comes the Storm
I must've been asleep for an hour before I was woken up by the sounds of howling wind, rain pounding into the side of the tent and loud booms of thunder all around. I tried to go back to sleep. But every time a strong gust of wind or crack of lightning came along (which was pretty regularly) the sound woke me up again.
One very strong gust of wind woke me up enough to open my eyes and see that the side of the tent above our heads was bulging in from the wind. The wind had pulled up the tent pegs and now there was nothing supporting this side of the tent. Every time a gust blew, the tent wall would bulge inwards. We got so worried that we all were lying there in the tent with our arms above our heads trying to hold the wall back.
Is This How We Die?
While we had our hands up against the tent wall, the cold rain was sucking all the warmth out of our hands. It didn't take long before my hands were numb with cold, and I was also losing the feeling in my feet. At this point my mind started to go through the scenarios: that the wind would tear off the outer layer of the tent and leave us in the pouring rain. Or maybe an extra strong gust would pick up the whole tent and send the four of us rolling down the side of the volcano. Should we abandon our tent and all huddle together in our guide's tent?
With the wind howling all around us, freezing rain pounding down on the tent and lightning flashes lighting up everything inside the tent; I started to wonder if we were going to all freeze to death like the other hikers. I thought back to the hotel owner in Lake Atitlan trying to reassure me that: "freezing to death is supposed to be one of the better ways to go out". Or maybe a lightning bolt would hit us and end it quickly.
I couldn't say how long we lay there wondering if the end would come. Probably a few hours. But eventually the storm died down, the wind quietened and we could relax. We even managed to get a bit more sleep before our guide came over at 3:30am to tell us that it was time to get ready for the hike to the top.
Hike to the Summit
After pulling on our still-wet rain gear and boots we were ready to try and make it to the top. It was slow going. The loose volcanic rocks and ash here were even deeper and more slippery than at the bottom of the volcano. It was very much two steps forward, slide one step backwards. Combine that with the thin air (we were over 3500 metres above sea level) and it didn't take long before we were all wheezing and struggling. But at least it had the benefit of working up a sweat and warming us up again.
As we slowly trudged through the darkness we had a new problem: the other woman and I were showing early signs of altitude sickness. They were still mild but it made pushing on harder. As we got higher, the wind started to pick up again. But it was still cloudy. The clouds hadn't been blown away in the wind overnight. So we still couldn't see much further than 50 metres. But our guide was still hopeful that it would get better as we got higher.
Eventually, with the other woman really struggling, the icy wind cutting straight to the bone, and nothing to see but clouds; our guide asked us all if we wanted to turn back. We could see the summit and nothing else but clouds. He said that the clouds weren't going to disappear, and that the wind would only get stronger as we got to the top. Since the other woman was pretty sick we let her make the decision, and so we abandoned our climb 70 metres from the summit.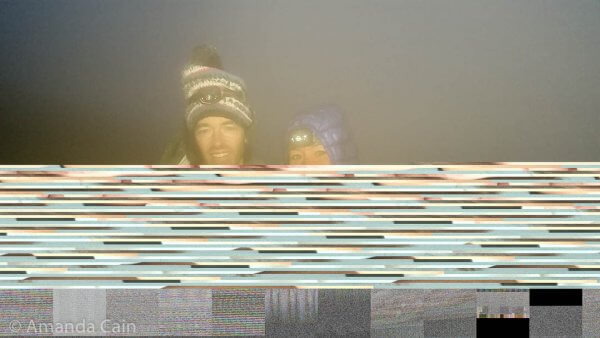 The Verdict
Acatenango Volcano is the first adventure activity we've done where it was a complete failure from start to end. No views, no lava, no reaching the summit, seriously thought we were going to die through the night. A whole lot of work for nothing. But we survived so I suppose that's something.
Would we do it again? Maybe. But we have plenty of new places we want to see before going back to Guatemala. So it could be a while. And we wouldn't go unless clear weather is forecast. I should probably mention that we went in the middle of the rainy season. Rain and storms seem to be something that comes with the rainy season. So that's my big tip anyone interested in hiking Acatenango: don't go in the rainy season.