The Highlands of Guatemala and Tikal are the two most visited areas in Guatemala. This post is about some of the things you can see and do in the Guatemalan Highlands. (Tikal will be coming in the next post.) The Highlands include Antigua: a colonial town that hasn't changed much in a few hundred years, Lake Atitlan: a scenic lake surrounded by volcanoes and mountains, and Volcan Pacaya: an easy volcano hike up an active volcano where you can toast marshmallows over cooled lava. (If you want a serious volcano hike, then you can read about our scary trip up Volcan Acatenango.)
Antigua
When you arrive in this region, Antigua is probably the place you'll stay. Most people who fly into Guatemala City jump into the first van (or chicken bus) they see and head straight to Antigua. (Guatemala City isn't particularly exciting. Well, it can be, but not for good reasons.)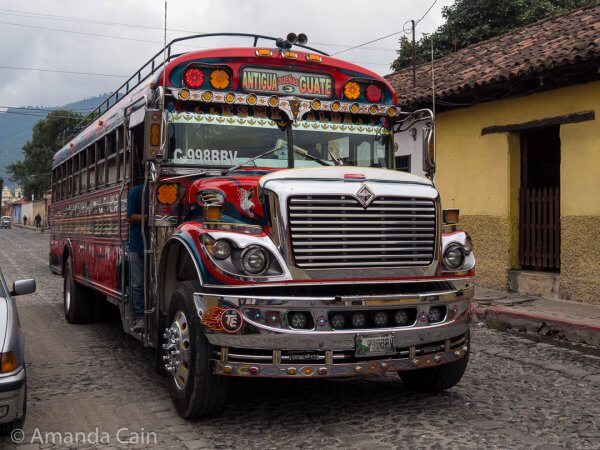 A Short History of Capital Cities in Guatemala
When the Spanish conquered Central America, they made their first capital city of the region in Iximche, an existing Mayan city. After several uprisings by angry Mayans, the Spanish relocated their capital to a place not far from Antigua. It's a pretty scenic area surrounded by pointy volcanoes. But 14 years later it was destroyed by lahar flows from one of the nearby volcanoes. So they moved the capital a few kilometres to where modern day Antigua is.
Things went fairly smoothly for nearly 200 years before a series of strong earthquakes in the 1700s almost completely destroyed the city. After this the Spanish decided to move the capital city again, this time to where Guatemala City stands. And it's stayed there ever since. That's not to say that there haven't been any disasters (there have been two very serious earthquakes in Guatemala City), but the Guatemalan government has decided to try and stick it out.
The Colonial City of Antigua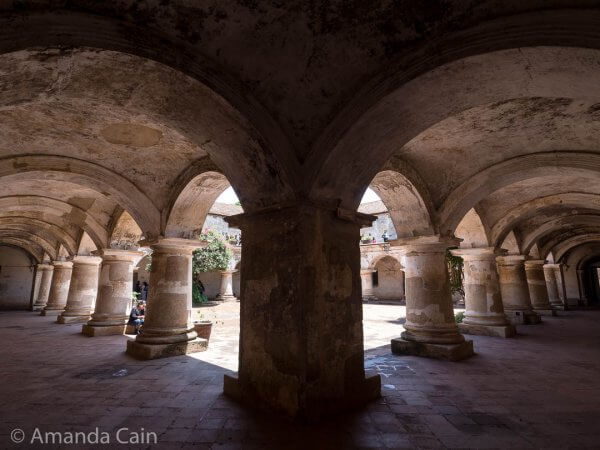 But now you can wander through Antigua and see how it might've looked in the 1700s when the Spanish abandoned the city. It's a very pretty colonial town, and it still has its cobblestone streets (which are actually pretty uncomfortable when you're in bouncing around in a car).
Ruined Churches
A lot of the big churches were heavily damaged during the earthquakes and haven't been repaired so as you walk along you'll see ruined churches dotted around the place. Some are open to visitors, others are too damaged so they're off-limits, and we even found one that had been turned into a craftwork training centre.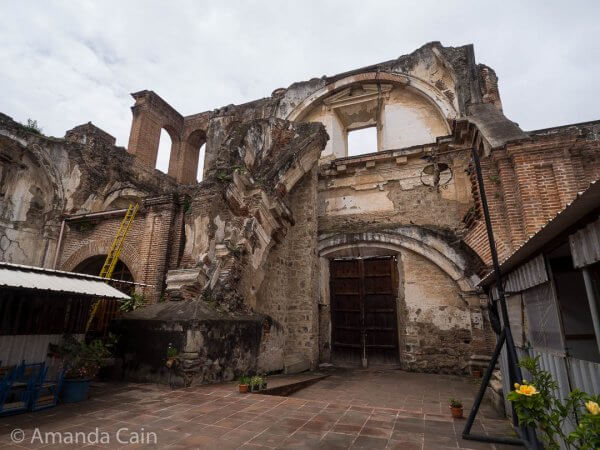 There's plenty of volcanoes surrounding the city, which makes it very scenic. And you can climb some of them for great views (or bragging rights). You can see Volcan Fuego from Antigua, and if the weather is clear you can usually see a plume of smoke shooting out the top of it. Volcan Agua (Water Volcano) is the really tall one nearby that completely dominates the views of Antigua when the weather is clear. (But it's not a good idea to climb it because of the armed robbers in the area.)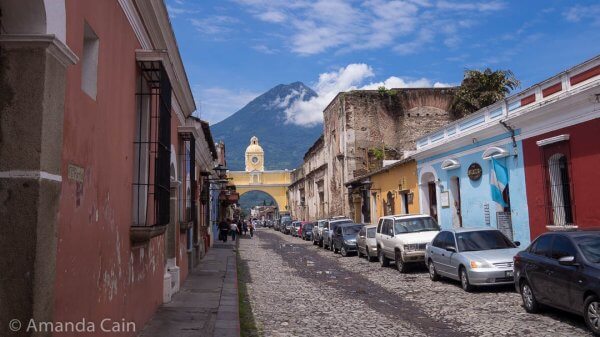 Volcan Pacaya
We actually did this hike before our "adventure" up Volcan Acatenango. It's a relatively easy hike, it only takes an hour and a half to get to the lava fields. It was because this hike went so smoothly that we decided to try and hike Acatenango. (Acatenango did not go smoothly.)
If you want to see some volcano action but want to keep things easy, then Pacaya is a pretty good option. You can't go near the summit here, you only go about halfway up because of safety concerns. But lava rivers flow down through the lava fields every so often, and if you get lucky you'll get to see them while they're still glowing. There was a really big flow a few years earlier and it flowed down to a spot where it formed a small lake. Because it was fairly deep it took nearly two years to cool down.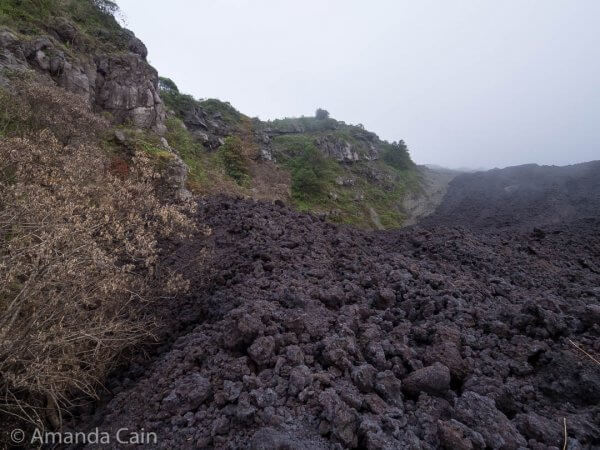 Marshmallow Toasting
We were there 3 weeks after a smaller lava flow. But it had mostly cooled into purple-black rocks when we got there. But "cool" is relative. If you dug through the top 30cm of rocks it would be too hot to touch them. But a perfect temperature for toasting marshmallows. This is one of the attractions of the hike. (For any Hamish & Andy fans out there this is also the same place where they cooked their lavasagne: lasagne cooked over lava). The lavasagne didn't go so well but the marshmallows were pretty good (even if they were a bit hot).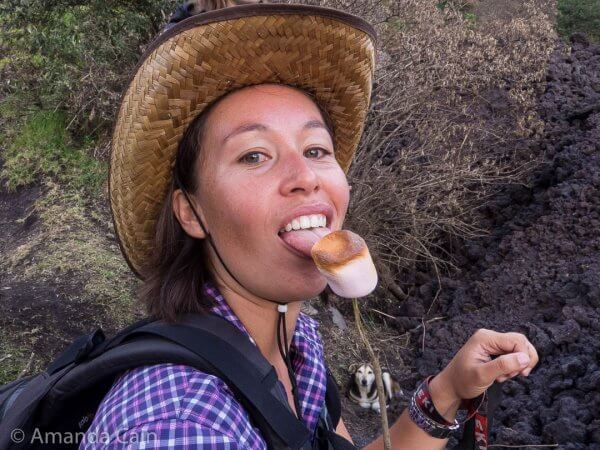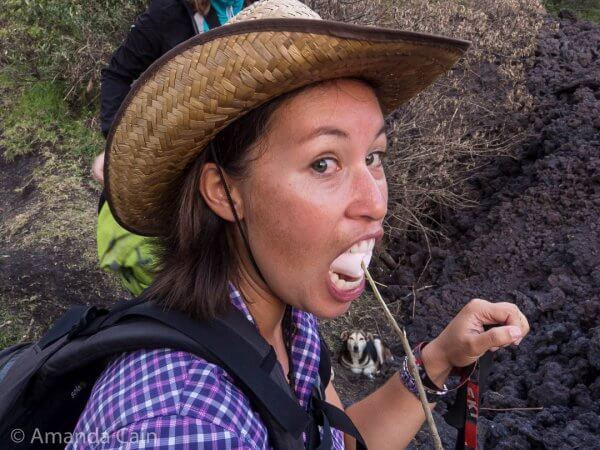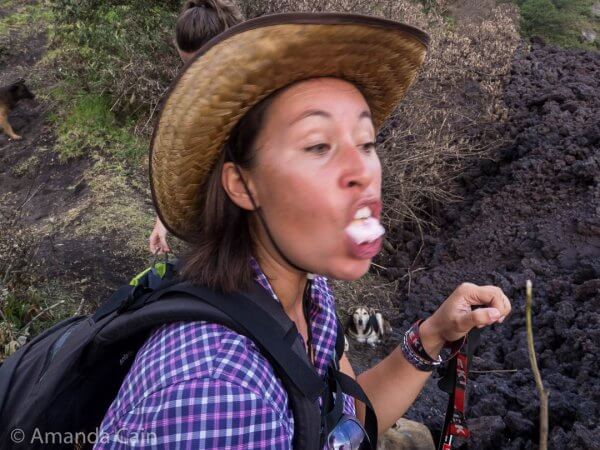 Unfortunately we didn't get much of a view of the peak because it was cloudy. (I'm starting to think that climbing volcanoes in rainy season isn't a good idea.) But if you get a good view you can see globs of lava shooting out the top of the volcano almost constantly. The clouds parted briefly so we got a short look at the summit. But I think staying overnight would get you a better lava experience.
Lake Atitlan
Lake Atitlan is a very popular place to visit in Guatemala. It's not hard to see why when you get there. It's a large lake surrounded on all sides by pointy volcanoes and rugged green mountains and cliffs with small towns and villages sprinkled around the lakeside. The mountains are so steep in some areas that the only way to reach some of the villages is by boat. Or hiking along some steep trails. You can also climb up the volcanoes and peaks around the lake for fantastic dawn views. (Though we decided not to since we were saving our strength for Acatenango.)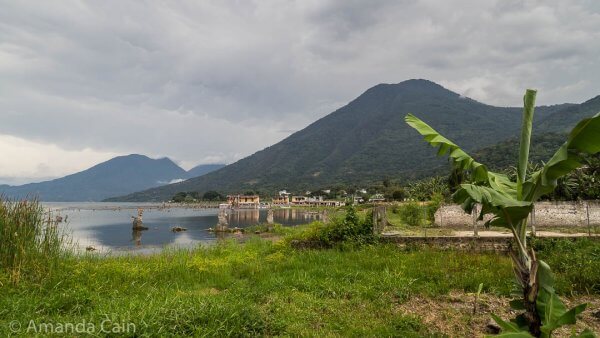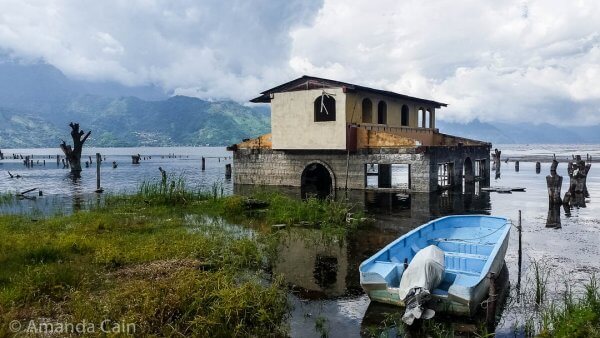 Panajachel and San Pedro are the two most popular towns for tourists. But there are plenty of small towns with different personalities. One of the more interesting ones is San Marcos which is the Hippy Town, where you get mystical & alternative types wandering around. But mostly what brings people to Lake Atitlan is the beautiful scenery combined with low costs so you can spend lots of time relaxing and exploring the area.