It's been a little while since the last post, and since our adventures through Italy. But I haven't given up completely on documenting our travels and feel like I have more stories to tell and photos I want to share. So I'm going to keep publishing posts when I can in between having to deal with working full time again. I've still got nearly a year left on my hosting plan so I might as well make the most of it!
It's quite a shock to see that Italy is in full lock down at the moment over the corona virus. So it seems like some posts celebrating Italy are in order. First up is: Ferrara.
The Charms of Ferrara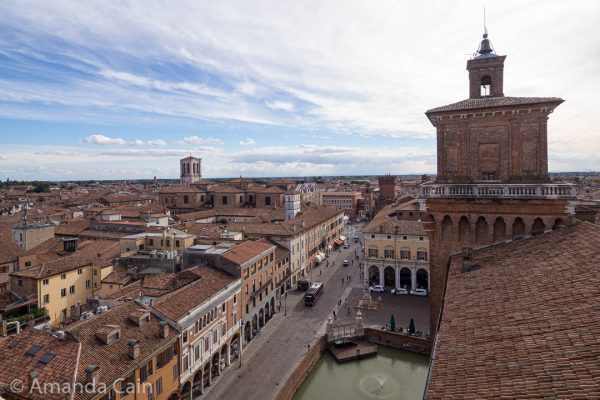 Since we were planning on being in Italy for 2 months, we had enough time to explore less famous towns and cities like Ferrara. The thing about Italy is that there are so many amazing and well-known towns and cities. Even if you only go to the most popular ones, that can easily fill up any itinerary. And because Ferrara is close to much more well-known places like Florence and Venice, it tends to get skipped by most people. Which is a shame since it's a very pretty and charming place and worth a stop if you're in the area.
Because they don't get many tourists there the locals are actually quite welcoming. Compared to other places that are completely overwhelmed by tourists and the locals just want to go about their lives in peace. While I was taking some photos of Ferrara's castle from the street, an old man invited me to come to his table in a cafe and take photos from there because the view was better. Later in the day I was taking photos of the town hall and a bus driver, whose bus was going through my photo, was making funny faces and waving his arms around as he went through to try and photobomb my photos.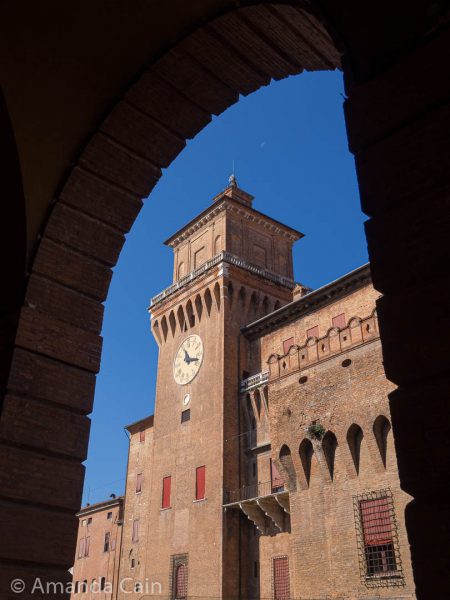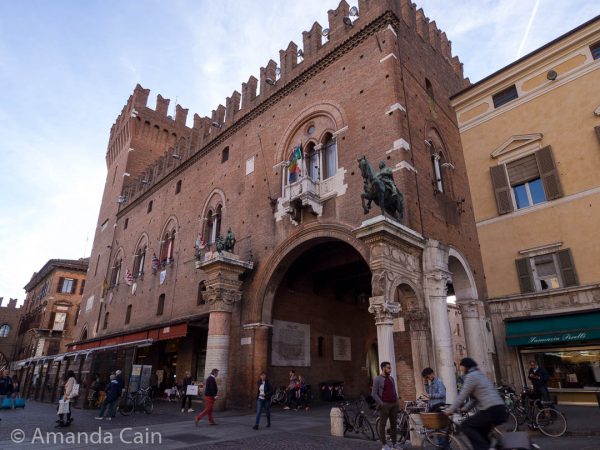 Beware of Little Old Ladies
The first paid attraction that we wanted to go to was the Diamond Palace which on the Ferrara Card, but for some reason they didn't sell it there. So we had to go next door to the Museum of Italian Unification. You may be surprised to learn that we weren't that interested in this particular museum and had zero plans to go in there. But since we had to buy our Ferrara Cards from there, and it was a tiny museum staffed by two little old ladies, we thought we would be polite and do a quick walk through of the exhibits. Which were mainly flags, uniforms and war diaries. Everything was in Italian so we didn't spend much time in the two rooms of the museum.
But apparently we took too long going through them. So one of the ladies thought that we very interested in the history of Italian Unification and gestured for us to follow her into the special third room of the museum. Filled with more flags, uniforms and war diaries. (Surely our inability to speak Italian would've given away the fact that we weren't particularly interested.) At this point Pedr and I were doing the calculations on just how long we needed to stay in this room before leaving. So that we would hit that fine balance between being polite, and avoiding any other secret museum rooms that the little old lady thought we would be 'interested in'. We must've got the timing right because we managed to escape after three rooms and the two ladies gave us beaming smiles as we left.
The Diamond Palace
The most unique thing to see here is the outside of the building, which is very striking when you see it in the right light. The inside is an art gallery of artists from Ferrara.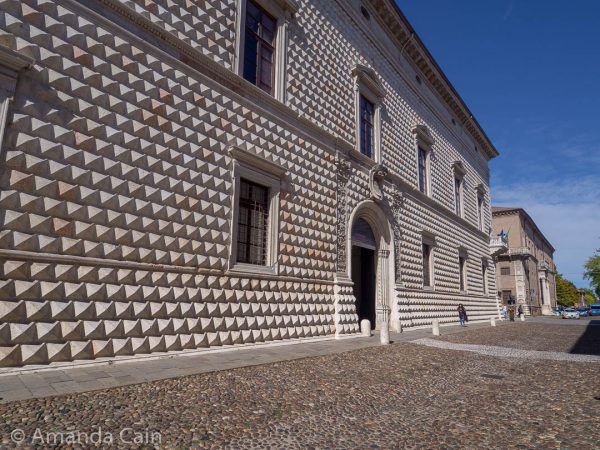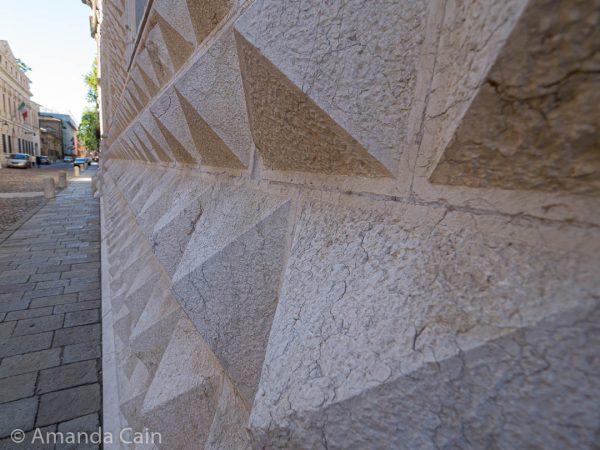 Castello Estense
After our visit to the Diamond Palace we went to check out one of the oldest buildings in Ferrara, which was the medieval castle complete with moat. It's a pretty cool looking castle with a dungeon and utilitarian rooms in the bottom levels and then 'newly renovated' Renaissance-style palace on the upper levels. They even had an orange grove built on one of the terraces. Oranges were a big deal in Europe, an orange grove was one of the must-have items for the rich and powerful. If you didn't have any oranges trees, you were a nobody.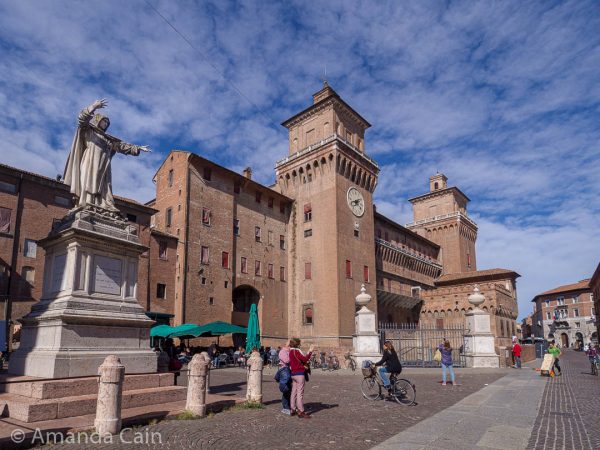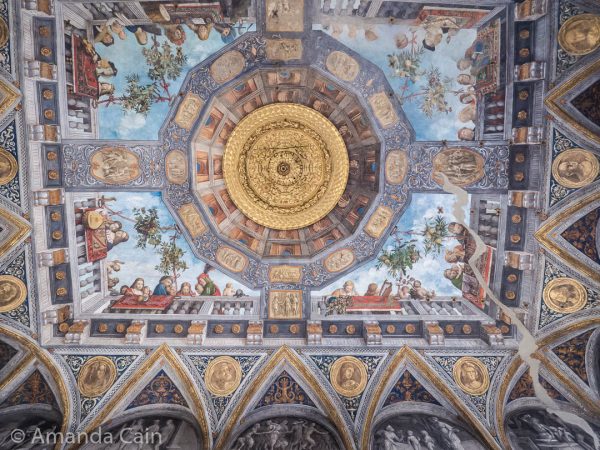 We couldn't see much of the cathedral (just the inside) since the outside was being restored, but it looks like it would be quite pretty when that's finished. The bell tower was all we could properly see.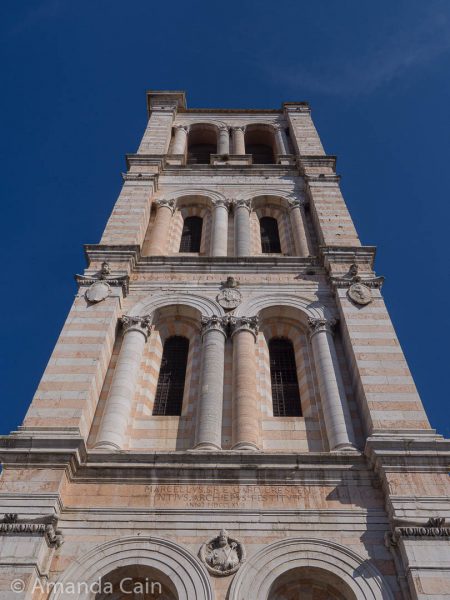 The Nuns of Sant'Antonio in Polesine (Beware of More Little Old Ladies)
There's also a nunnery in Ferrara: Sant'Antonio in Polesine. It's known for the paintings inside its church which you can see when the nuns aren't praying or singing (another thing they're famous for). But to get in you have to ring the doorbell and ask in Italian to visit, and then a sweet little old nun will guide you through in Italian. I'm glad I know Spanish because it made it easier to understand what she was saying and ask a few questions in broken Italian, but she did her best to accommodate us.
It's interesting that this is a cloistered nunnery. The nuns there avoid contact with the outside world (with a few exceptions). We actually came across two other nuns in a corridor and they both turned around and went the other way as soon as they saw us. We also spun around and went the other way to avoid them. It probably looked like something out of a comedy sketch: "Cloistered nuns / The Outside World!!! Run away!!!"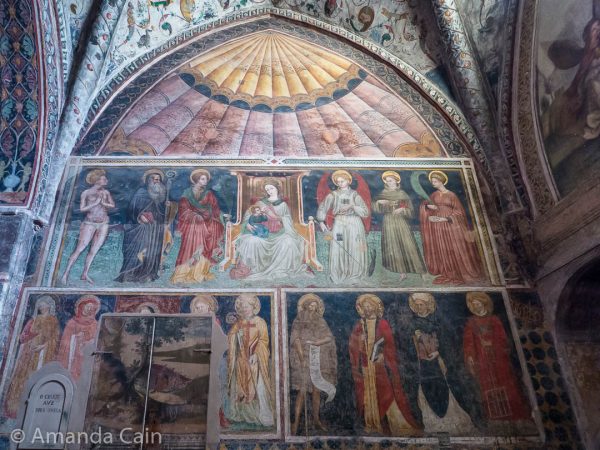 A Stroll Along the City Walls
Ferrara also has a pretty extensive set of city walls. We tried to do a full circuit of them but gave up halfway through because it was getting too hot and I really wanted some gelato. But it was a nice scenic stroll outside and a bit of a change from castles, palaces, museums and churches.
Ferrara's most famous dish is pumpkin-filled ravioli in sage butter. And since we happened to be travelling in autumn, we got to indulge in their speciality quite a bit. All that artery clogging buttery goodness mmmm….. We also had pizza one night for good measure, and this is where we learnt how the Italians eat pizza. You fold the slice in half so that the toppings are on the inside, a bit like a taco, and then it doesn't make a mess when cheese and bits of topping start to pull apart as you eat. We kept checking this everywhere we had pizza in Italy, and saw Italians doing this pretty much all the time. So there you have it, how to eat pizza 'properly'.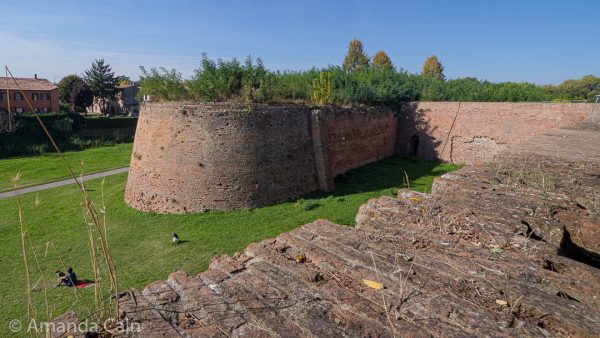 Modena and The Bucket
To finish up I'll share a couple of pictures from our day trip to Modena. My favourite fact about Modena is that they had something called "The War of the Bucket". It sounds like a stupid thing, and it was. It was part of a longer-running war between Modena and Bologna. During the War of the Bucket, the Modenese army invaded Bologna and did some looting and pillaging. Some bright spark stole a bucket out of a well. Somehow this became the greatest treasure from the looting and The Bucket was proudly displayed in the bell tower in Modena for centuries. Now it's safely behind glass in the town hall.