One very popular (and expensive) activity to do in Mexico is to go cenote diving. Cenotes are underground caverns that are filled with water. From the surface they just look like a small hole in the ground with a shallow pool of water. Some of them are shallow, but others can be over 60 metres deep. And most of them spread out sideways from the opening in the ground so that the inside is far bigger than the small hole on the surface. In the past they were filled with air, which allowed them to grow fantastic limestone formations. But since then they've been flooded and this is what you see today.
Why Bother?
When we first arrived at the dive shop we weren't sure if we were going to even do any cenote dives because we thought that it would just be a big hole in the ground with no fish or coral. In other words: not much to see. Turns out that we were very wrong. They're not just different from reef dives, they're also different from each other. So it's not enough to do just one cenote dive, because other cenotes will be different and have something else special to offer.
(I'll quickly mention here that the underwater photos are not up to the usual standard for the blog, since they were taken from GoPro video footage in dark places. So I've tried to be a bit more descriptive in the captions to make it easier to work out what you're looking at. If anyone would like to give me $2500 to buy a waterproof housing for my camera, I'll be more than happy to go back and get some better photos. 😉 )
Cenote Angelita (Little Angel)
This was our first cenote and probably one of our favourites. This one looks like a nice swimming hole above the water, but underneath is very different.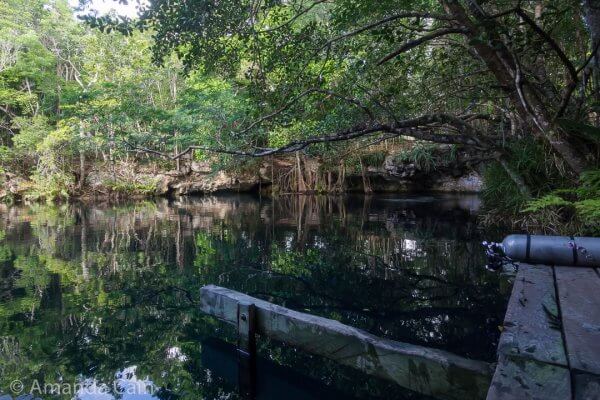 What's Special About It?
This cenote is basically a 30 metre wide hole that goes straight down to 60 metres deep. Because it's so wide there's plenty of space for trees, branches and leaves to fall into the water and sink to the bottom. This has been happening for a while and now there is a 30 metre tall pile of bits of dead trees at the bottom of the cenote.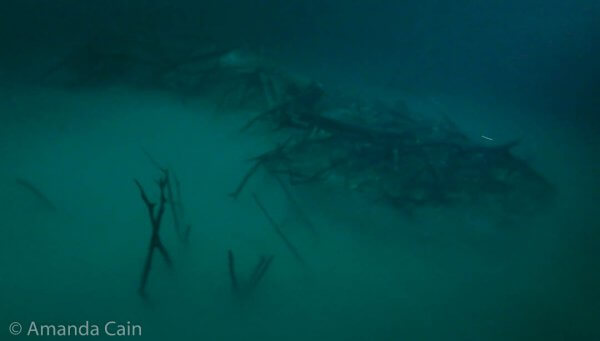 In the water the trees and leaves decomposed and created hydrogen sulfide (or rotten egg gas). This stuff is super toxic and can kill you in tiny concentrations if you breathe it in. But underwater it's pretty harmless. The layer is about 3 metres thick and looks like a super dense fog cloud. Add in twisted black branches sticking up through the fog and it looks like you're in some kind of creepy horror movie.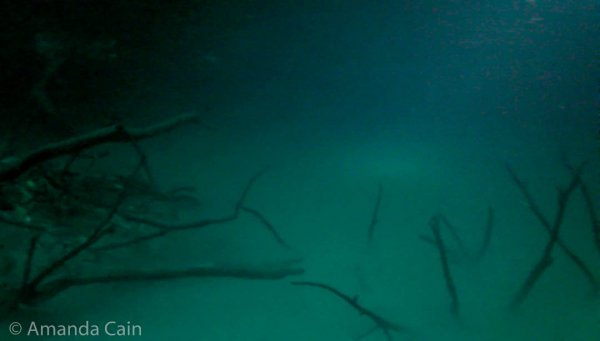 The thing that makes the fog so dense is the fact that it's trapped under a layer of freshwater and above a layer of saltwater. The top half of Cenote Angelita is all fresh water, and the bottom half is saltwater that's seeped in from the sea. The fresh and saltwater layers don't mix very well and so the hydrogen sulfide is trapped between them.
Swimming in a Toxic Fog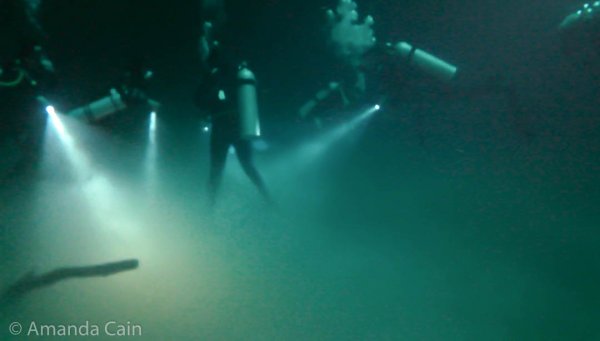 As part of the dive you get to go down through the toxic fog and see what's below. When you go down with your group you all hold hands in a circle so that you don't lose each other.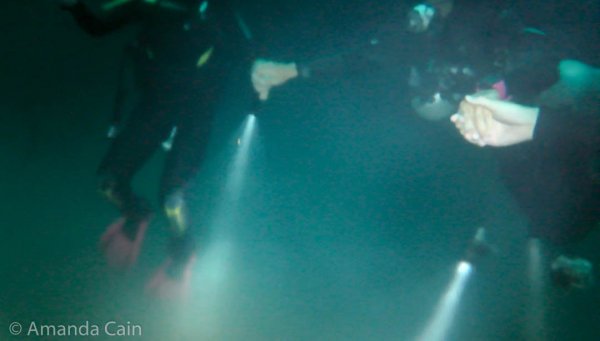 When you're inside the hydrogen sulfide the fog is so thick that you can't see your hand when you hold it in front of your face. All you can see is the pinkish glow from your neighbour's torches.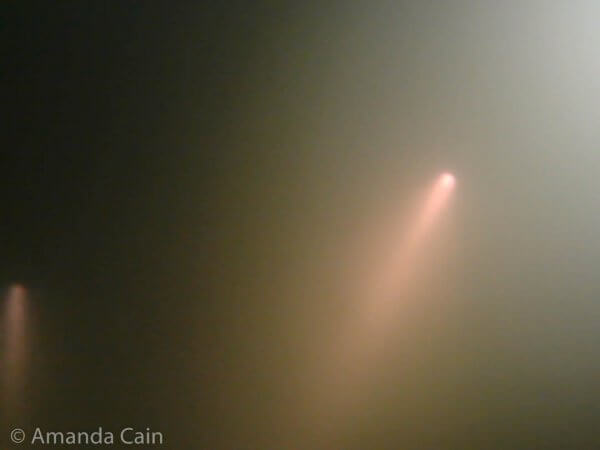 Where is Everyone?
Once you get below the fog everything is dark, as if you were going diving at night. That's because the fog doesn't let any light through. Once we were below the cloud we had a couple of minutes to explore before we had to go back up. So we all fanned out a bit to look around.
The time passed quicker than expected because when I looked up a few group members were missing, including the two guides. The rest of us looked at each other and shrugged our shoulders before going back to looking around. (I'll just point out that we weren't in danger, the safety rules say that you should look for the rest of your group for no more than one minute before going up.) So I made a note of the time and kept an eye out for other torches. But before the minute was up the others started heading up so I went to join them.
(We later found out that the guides had given the signal to go back up through the fog but half of us missed it. And with the fog swallowing anyone that goes near it, it just seemed like half of the group had just vanished without a trace. When the rest of us didn't make it through the fog the guides went back down and started grabbing people and pulling them up through the fog.) We all made it safely out of the toxic fog in the end, so no harm done.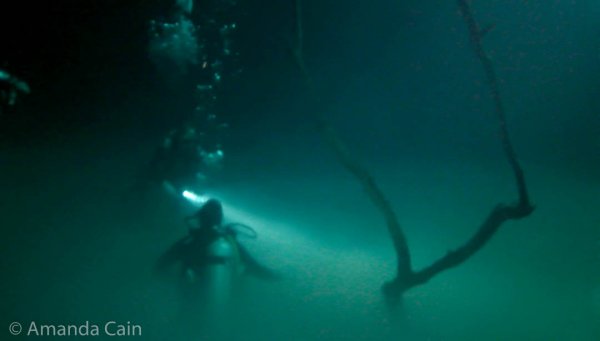 Back to the Spooky Movie Set
After this we got to play in the toxic fog for a bit before slowly spiralling up along the sides of the cenote; getting different views on the spooky, surreal world hidden in the waters of Cenote Angelita.
If you want some better quality photos google "cenote angelita" and you'll see some great shots where it looks like the divers are "flying" over a foggy lake.
Cenote Dreamgate
This is a very special place. The dive is actually pretty shallow, you don't go more than 6 metres deep. But the caves spread out a long way underground from the entrance, and they are filled with beautiful limestone formations. Because it's relatively narrow and full of delicate formations, they try to make sure only experienced divers go here.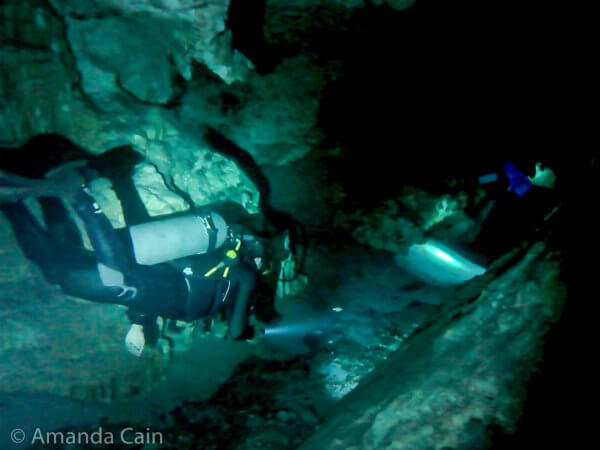 What's Special About it?
There are stalagmites and stalactites everywhere.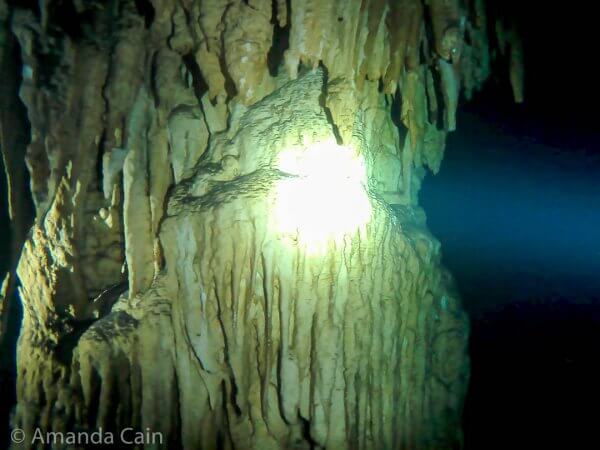 Some are only as thin as your pinky finger, but stick out a metre or more from the floor or ceiling of the cave. And there are also ones as thick as your arm that go all the way from the floor to ceiling.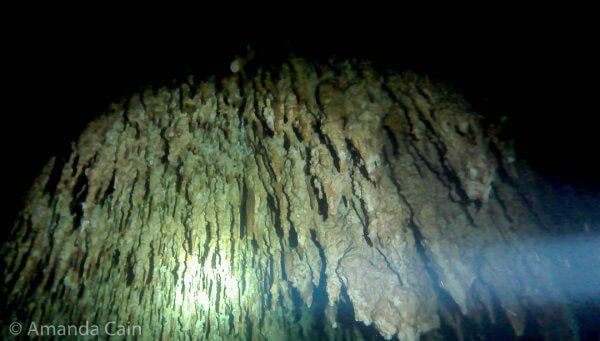 In some places there's enough space to swim facing up to look at the ceiling, and you can see limestone icicles hanging from every possible spot on the ceiling. In some areas the air bubbles from divers have become trapped so you can see air pockets. The air reflects light like a mirror so you can see reflections of the icicles along the surface of the air pockets.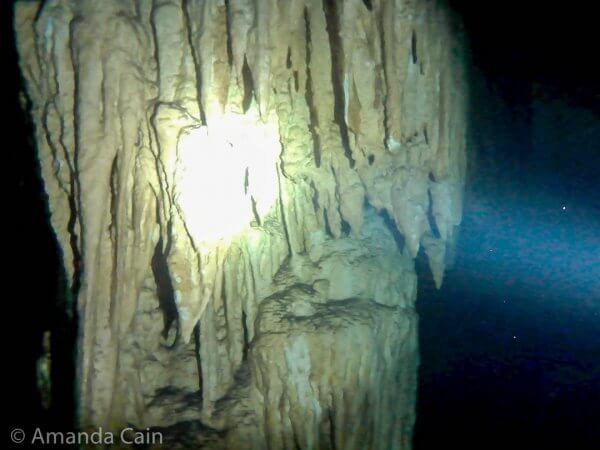 Flying Divers and Fish
The water here is also crystal clear. Normally in the sea you can see little specks of dust or bits of dead sea creatures and that makes the water a bit cloudy. That's why you can't see as far underwater as you can above the water. But here in Cenote Dreamgate the water is so clear that it's like air. As you go through you sometimes forget that you're underwater until you see a fish swim past your face.
It's like the limestone formations are the trees, and the fish are silver birds flying through their forest. Even the divers look like they're flying through the cave. It's very surreal.
Cenote Calavera (Skull Cave)
This cenote isn't filled with skeletons of lost divers. It gets its name from the openings in the roof that (with a lot of imagination) look like the eyes and nose of a skull.
What's Special About it?
The main thing to see in this cenote is the halocline. This is the area where freshwater and saltwater meet. There is some mixing between the layers, and where they do mix it plays tricks with your eyes. In the mixing zone you get rippling and blurriness and you think there's something wrong with your eyes or mask (goggles). It kinda looks a bit like heat haze you see coming off a hot road. So as you go along, you'll pass through the halocline constantly. And your view will keep changing from blurry to sharp-edged wind-carved rocks, then back to beer goggles.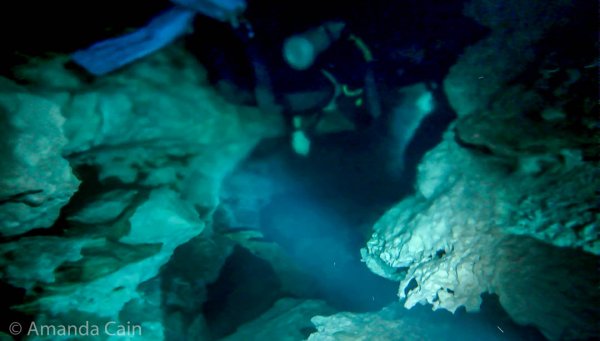 You can also play around in the halocline a bit because the freshwater on top makes you "heavy", but the saltwater underneath makes you "floaty". So you can kinda bounce along between the two layers.
Not Good if You're Scared of Heights
Another thing that stands out in this cenote is the entry method. All the other cenotes we went to had a little wooden jetty not far off the water's surface. But because the opening at Cenote Calavera is relatively small, there's not enough space for a jetty. Just a ladder. So you have the option of climbing down the ladder with all your dive gear (not recommended) or to jump 4 metres off the rocky ledge, fully geared up.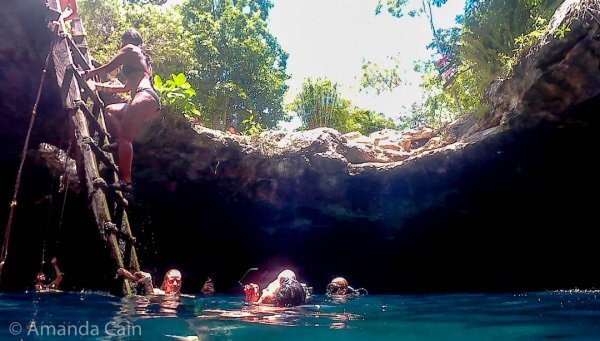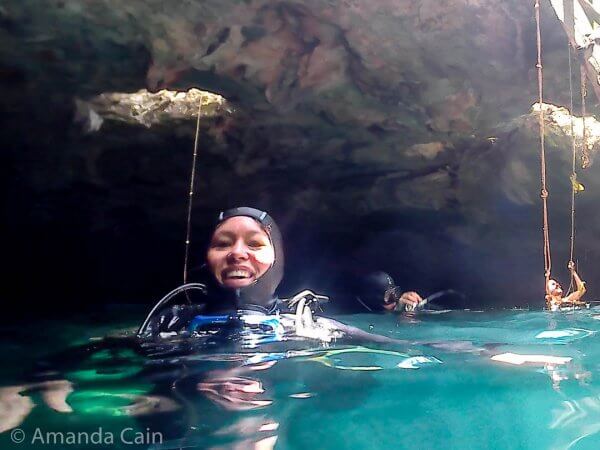 Cenote Dos Ojos (Two Eyes) – Bat Cave
The two eyes in the name refer to the two large openings in the ground, and underground there is a long cave linking the two "eyes". We went to the side with the Bat Cave. (And no we didn't find Batman hiding in there.)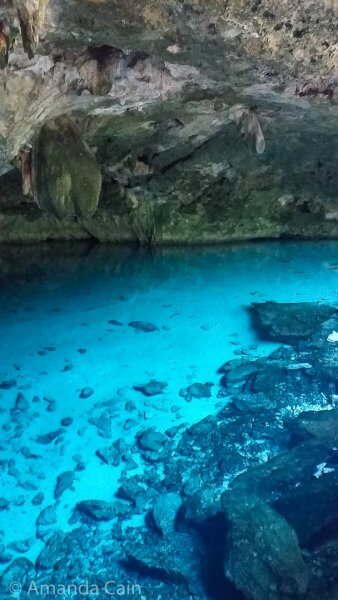 What's Special About it?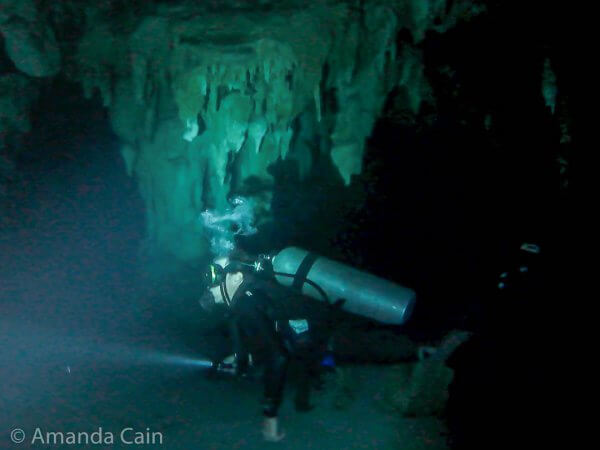 Like diving in Cenote Dreamgate, the Bat Cave is full of limestone formations everywhere you turn your head. You have "frozen waterfalls", "icicles" hanging down from the ceiling, "giant candles of dripping wax" and plenty of thin and thick pillars connecting the roof to the floor of the cave.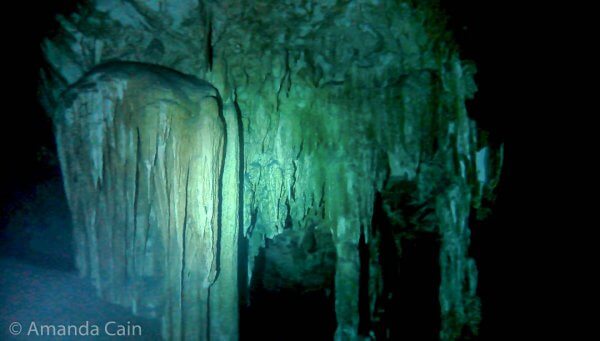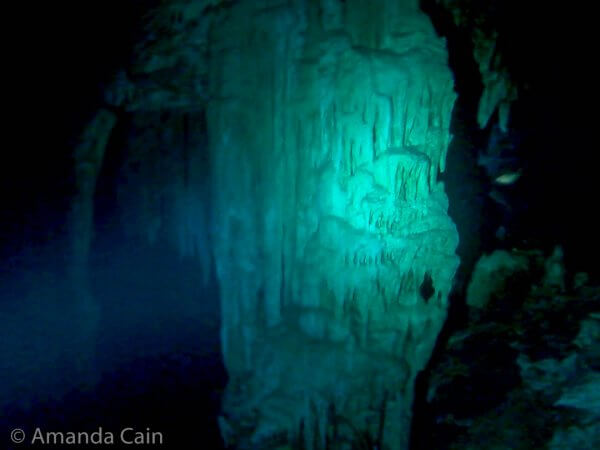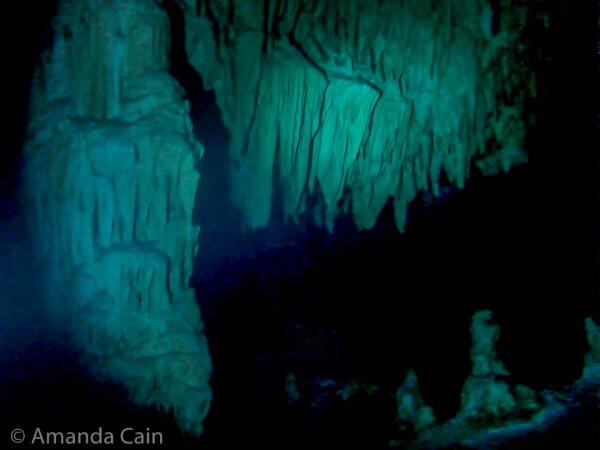 It seems like there's even more silver fish cruising around in here than Cenote Dreamgate, popping up regularly to remind you that you are underwater and not enjoying a stroll through Jenolan Caves. (There were so many fish that I had a problem with them photobombing a lot of my videos.)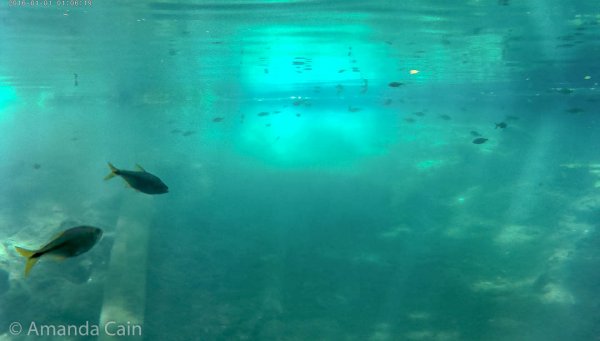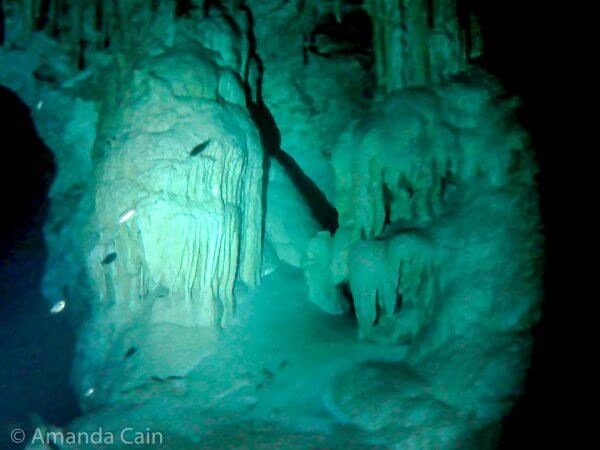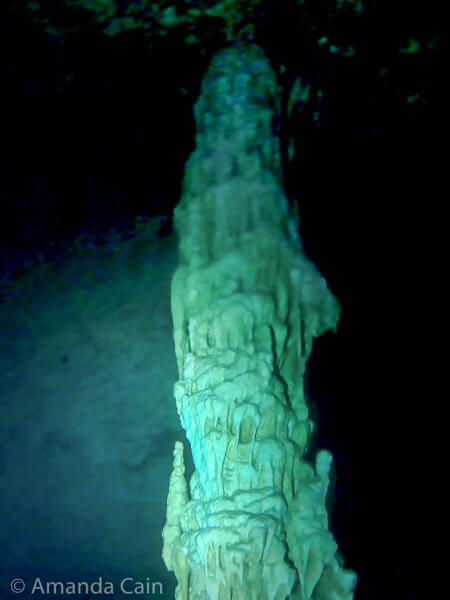 And the Bats?
There is a reason why this is called the Bat Cave, and you can see that when you get to the end of the cave. There's a large air filled cave that is home to a bat colony. There's a small opening at the top of the chamber letting in bats and light, but otherwise they're pretty well protected here. There must've been thousands of bats all hanging from the ceiling, with a few of them fluttering around, all squeaking away.
It's a pretty close call between Cenote Dreamgate and the Bat Cave in Dos Ojos, but having the bats tipped this one over to be our other favourite (along with Angelita).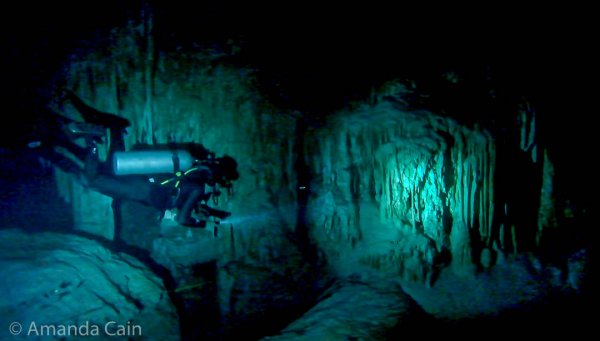 Cenote El Pit (The Pit)
What's Special About it?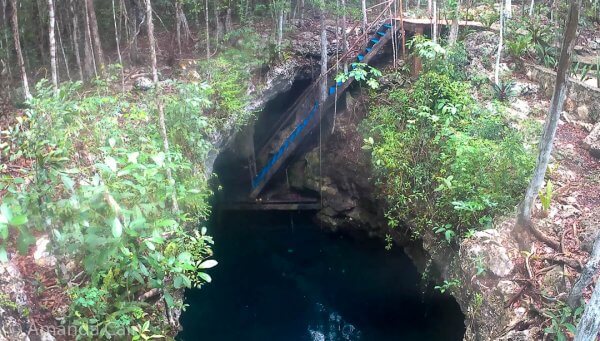 This cenote is a little bigger from the surface than most of the others we saw. Once you stick your head under the water you see just how bloody big The Pit really is. It's about 30 metres down to a cloud of hydrogen sulfide (it goes down another 20 metres below this), and about 30-40 metres wide. It really is an enormous hole in the ground.
And with the crystal clear water you can see clearly from one corner to another. That's 50 metres. In ocean diving, visibility of 15-20 metres is considered good, 30 metres is excellent. So 50+ metres is insanely clear. You can be at the surface and clearly see the divers swimming around in the fog below.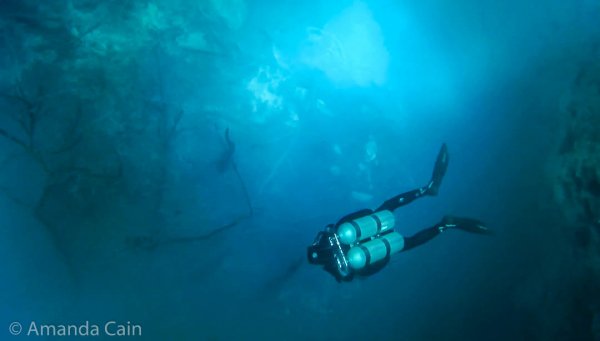 Toxic Fog Fun-Times
Like Cenote Angelita, a lot of trees and branches and leaves have fallen into the cenote over time and produced hydrogen sulfide gas as they decomposed. But because the halocline (where the freshwater and saltwater layers meet) is a lot shallower here, the fog isn't as thick as Cenote Angelita. But it still looks pretty cool and interesting to swim around inside it.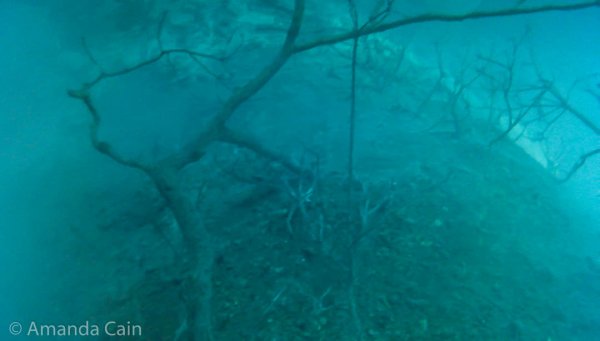 After playing around in the toxic fog you head off to the side of the cenote to check out the stalactites hanging from the ceiling.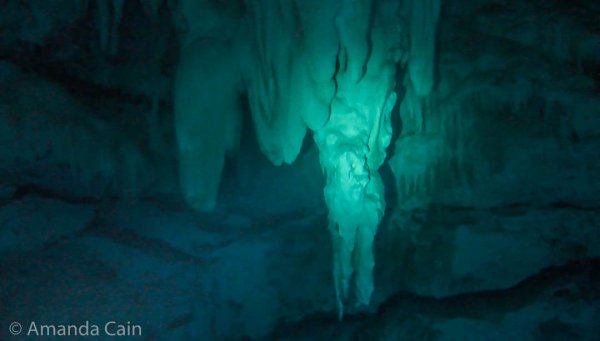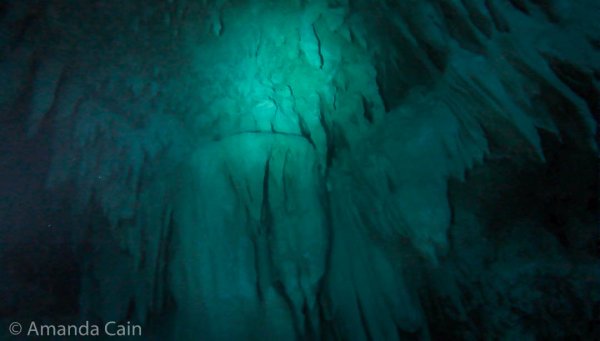 Laser Light Show
From the side chamber, if you get the sun at the right time of the day, you will see bright beams of blue "laser lights" shining down from the surface all the way to the bottom. It looks like something out of a movie; with the crystal clear water, tiny divers at different levels in the water, and brilliant blue light beams shining and dancing around. It's an incredible sight.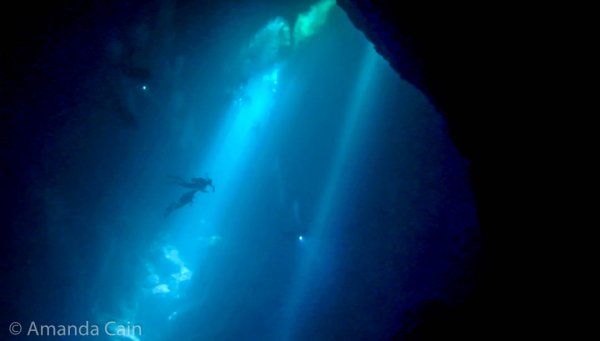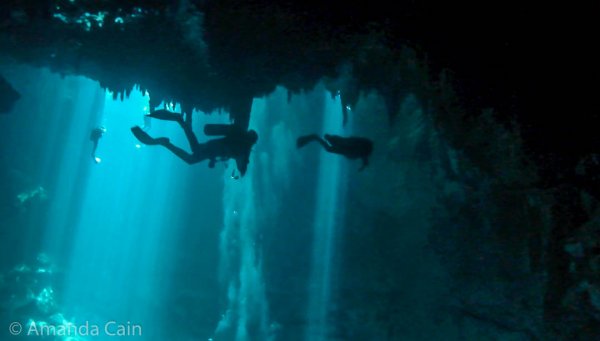 Diving: A Way to Burn Money Underwater
So there you have it. Our five cenote dives, and the wide variety of diving experiences you can get. We would love to go back and see what the other ones have to offer. (And to take my good camera with me to capture the incredible sights: surely someone wants to give me $2500. ;))
We didn't miss out on the great reef diving in this part of Mexico either, Isla Cozumel definitely deserves its reputation as Mexico's best reef diving. So many colourful varieties of fish and coral. And all the fish are huge since there's no fishing allowed here. (No photos unfortunately.) We've actually overspent our budget quite a bit thanks to all this great diving. But we don't regret any of it. The diving in Mexico has probably been one of the most memorable things in all our travels.