Most people when they think of Belize, they think of tropical Caribbean islands. Just like the kind you see in postcards. And that's what you get. The two most popular places to stay are Caye Caulker and San Pedro. San Pedro is the big busy resort town, and Caye Caulker is the chilled-out village. One Belizean guy said that it was like comparing a small country town with New York. Since resorts aren't our thing we went to Caye Caulker. And it was pretty much love at first sight.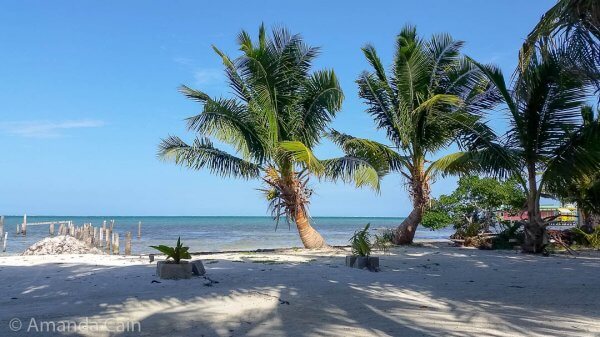 While there's not a whole lot of beach left ("Hurricane take it" was the response when we asked the guy at our hotel), the island has a very relaxed and laid-back vibe. There's enough tourist facilities (restaurants, bars, activities) to keep things interesting. But the place doesn't feel like it's been overrun with tourists.
Diving the Great Blue Hole
The main reason to go to the Belizean islands is to go diving or snorkelling on the beautiful reefs. And to see the Great Blue Hole. This is a giant sinkhole in the middle of the reef. From above it looks like a perfect circle of dark blue in the centre of tropical turquoise water. The hole is 318 metres across, and 124 metres deep. And it pretty much goes straight down.
The Dive Experience
When you go diving you start off on the flattish ledge (20 metres deep) surrounding the hole. It's a very weird feeling when you swim out over the edge and all you can see is inky blue nothingness in the depths below you. It kinda feels like you should fall straight down. But instead you just drift very slowly downwards into the nothingness. We couldn't go too slowly, because we were going all the way down to 40 metres deep. That's the deepest you can go as a recreational diver. And you can only spend 2 minutes at that depth so we had to be quick. It's also not a dive for beginners. Because if you don't know how to control your buoyancy, you could end up sinking 124 metres to the bottom. So they want you to have done 25 dives beforehand
What's Inside the Great Blue Hole?
So what is there to see at 40 metres? Luckily, more than just inky blue nothingness. There's a cave stuck into the side of the wall of the hole. This cave used to be above water a long time ago, because at the entrance to the cave there are giant stalactites hanging from the ceiling. They're like enormous trees. If you tried to hug one you wouldn't even get your arms halfway around. The biggest one of them would've needed 3 or 4 people to be able to put their arms around it.
We swam inside the cave and behind the stalactites. It felt a bit like swimming through a cathedral with the pointed cave ceiling, and the stalactites forming the columns along the aisle. As we swam out, Pedr had a reef shark come face to face with him (don't worry, they're harmless) before turning away at the last second. He said it was one of the coolest diving experiences he's ever had. After our 2 minutes in the underwater cathedral, we went back up to the light and the surface.
Diving Other Reefs in Belize
Lighthouse Atoll & Turneffe Atoll
When you go diving the Great Blue Hole, you also get to do two more dives on Lighthouse Atoll. This is a pristine reef 70 km off the coast of Belize. It also has the most stereotypical tropical island we've seen. There's also a research station on the island and we were seriously tempted to see if they needed any volunteers.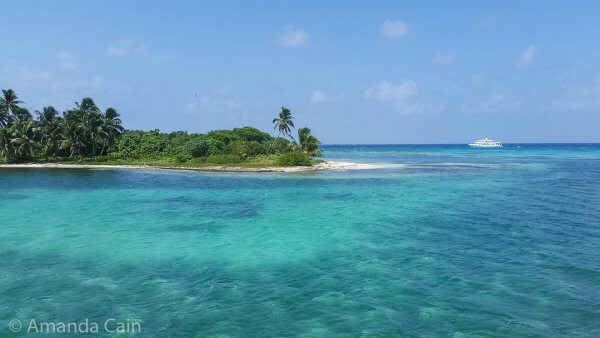 The reefs there (and Turneffe Atoll, which we dived a different day) are very healthy. With lots of large friendly fish, nurse sharks (also harmless) tons of baby fish and the most diverse soft corals we've seen. There are corals shaped like giant ostrich feathers, giant feather boas, giant dill, mini weeping willows, mini poplar trees, harps and branching trees. Some of them were 2 – 2.5 metres tall. (Generally anything over half a metre is big.)
And when you go in close to look at the corals they were all covered with teeny tiny flowers (coral polyps). As you swim along it's almost like going for a stroll in an underwater forest. It's definitely one of the most beautiful reefs we've dived on. (Isla Cozumel and the Andaman Sea off Thailand are the other two most beautiful reefs we've seen.)
San Pedro Area
Not far offshore from San Pedro is an area nicknamed "Shark Alley" because of all the nurse sharks swimming around the underwater canyons. The sharks aren't bothered by divers at all, in fact they've actually learnt that divers = food. Not because the divers deliberately feed them. But because when they see dive guides pointing at things under rock ledges it means that there's a tasty lobster or crab hiding there. Several times I saw a shark go in for a closer look when it saw a guide pointing at something under a ledge.
Unfortunately the coral here is in pretty bad shape. The hurricane that took the sand from Caye Caulker also smashed up the shallow reefs facing the open sea. The reefs in Lighthouse Atoll and Turneffe Atoll were protected because they were facing the calm waters inside the atolls. So don't go to the San Pedro area expecting to see a lot of coral.
Some Tips for Diving / Snorkelling in Belize
Check what the dive schedule is for different companies because they don't go to the Great Blue Hole or Turneffe Atoll everyday. They seem to have an arrangement where they go on alternate days.
If you go during the low season (May to October), then be prepared for some trips to be cancelled because there's not enough people for it to be worthwhile for the dive company. We needed 8 people for a trip to the Great Blue Hole to go ahead.
In the rainy season the weather can get a bit rough. We had 30 km/h winds which meant that there were 2 metre waves once the boat left the protection of the reefs and was out in the open sea. Bring anti-sea sickness medicine if you think you might be sick. It's 3 hours to the Great Blue Hole, then 3 hours back. You'll be miserable for a long time if you're not prepared.
Check out what the dive boat is like. Some companies have nice modern 2 storey boats with toilets, tables and seating, and plenty of space for dive gear. Other boats are just a speedboat with air tanks and benches lined up along the sides of the boat. If you need to go to the toilet, they will stop the boat in the middle of the sea and tell you jump overboard to do your business. Luckily we were warned beforehand, and we felt like it was worth the added expense to go in the more comfortable boat.
It doesn't really matter if you stay at Caye Caulker or San Pedro, because the dive / snorkelling sites are similar distances away from Caye Caulker / San Pedro. So pick the place that suits your style: chilled out village or resort town, and do trips from there.
We loved our time in Caye Caulker and on the reefs in Belize. And it's one of the places we could happily go back to and spend several months there alternating between diving and relaxing.
Interested in cenote diving in Mexico? Check out our trip report on some of the coolest and most unique dive experiences you can have.