This post isn't meant to be whingey, but more of a lighthearted account of a string of bad luck that that started in Mexico and continued in Cuba that made us feel like we'd gone into some kind of travel rut. Leading up to our Cuba trip we'd been stuck with upset stomachs for nearly 2 weeks (the kind that leave you sweating with panic when you don't know where your nearest toilet is). And then as that settled down we spent 4 days on Isla Mujeres to go diving and couldn't go on any of the days because of bad weather. We were hoping to break that string of bad luck going to a new country.
Welcome to Cuba
Our first interaction with Cuban government officials was the immigration officer at the airport. We got one word out of her: a very disgruntled "bienvenidos". But after that we went to the luggage carousel to stand around for an hour as they unloaded one bag at a time from the plane. Sydney Airport no longer has the slowest baggage collection, the honours now go to Havana Airport. After getting up at 4AM (after 4 hours sleep) for our flight I was glad that I'd organised an airport pickup from our casa owners (hosts) as I don't think my brain was up to the task of arguing with the pushy taxi drivers.
Finally Free of the Airport
As we drove along our host told us a bit about Cuba and that we had arrived at a historic moment for the country. The day after we arrived Raul Castro was stepping down, and the new president would be chosen. It would be the first time in 60 years that a Castro was not president.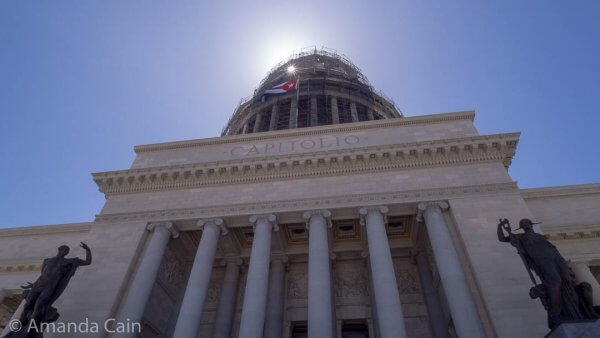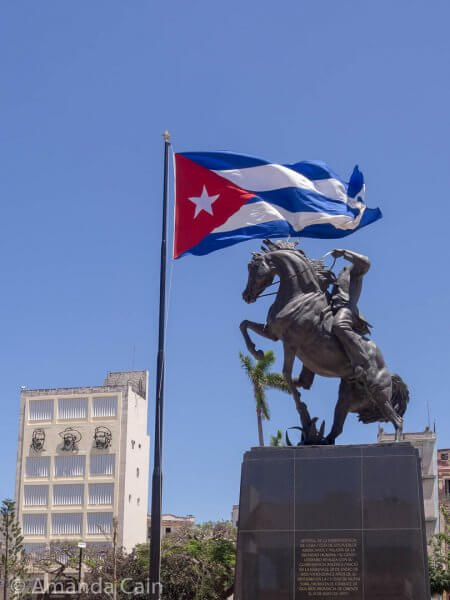 After a short rest in the casa it was time to check out Old Havana. First stop was the Etecsa kiosk to buy an internet card. Unfortunately the line at the kiosk seemed to move even slower than the baggage handlers at the airport. So we spent half an hour working on our tans in the burning Cuban sun while we waited. You might have noticed that waiting is becoming a common theme here. Internet isn't readily available in Cuba. You have to buy a card, then go to one of the few wifi hotspots in town and use the login info on the card to get access. If you can get access. We tried going to one of the big hotels and just got a bunch of weird error messages so we gave up.
Old Havana
Strolling around the old town was much nicer. Old Havana is a very photogenic city.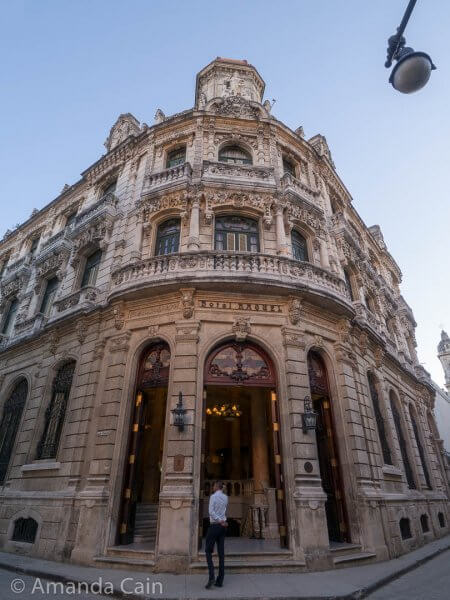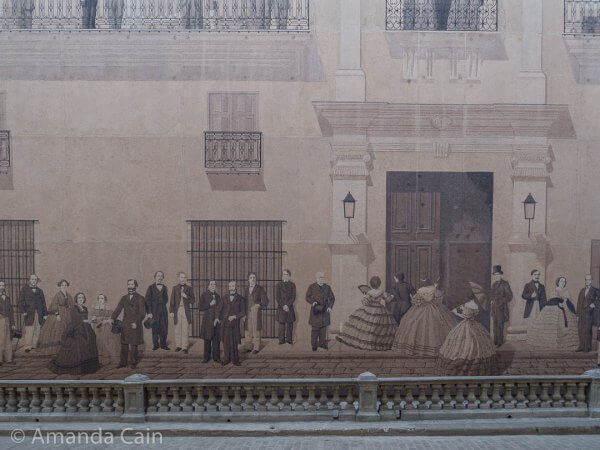 It's also a city of contrasts. You have the beautiful old buildings everywhere. Some are restored to their former glory, others are crumbling away. The difference? Only the hotels and government organisations have the money to maintain them.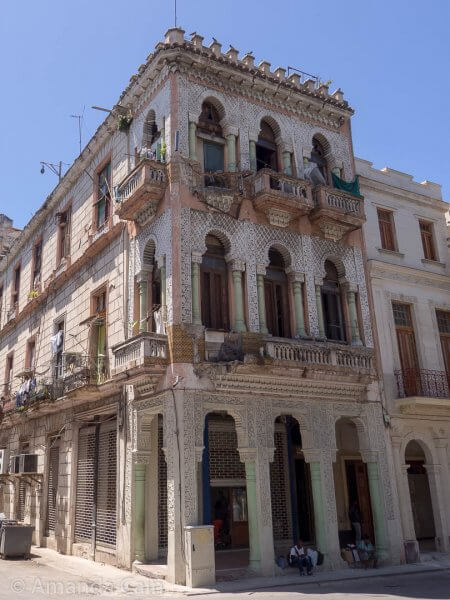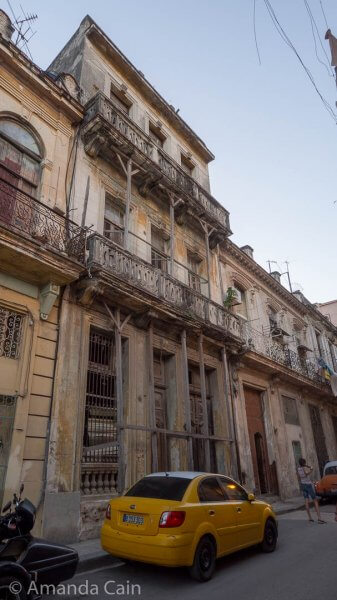 The average monthly salary in Cuba is about US$25. That's per month. So of course restoration isn't a priority. The people that earn this low wage are the ones that work for the government. People in tourism earn more.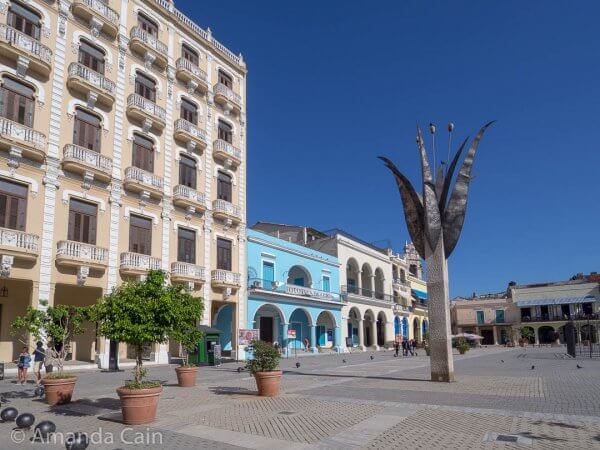 Cuban Franken-Cars
It's a similar story of contrasts with the cars. You've got a lot of old classic American cars, Russian Ladas as well as French Peugeots.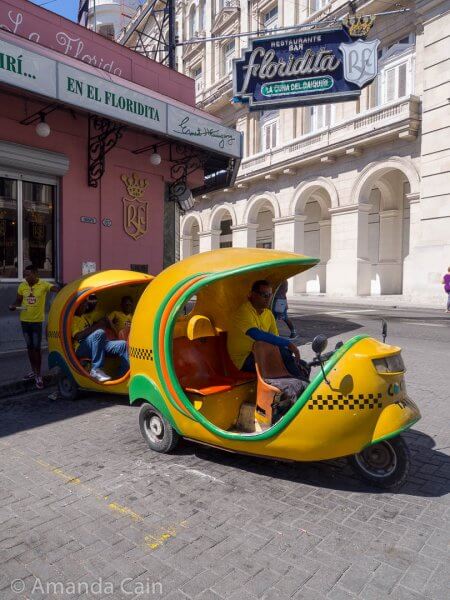 Apart from the newest cars, pretty much every car in Cuba is some kind of Franken-car with parts from wherever they can find them. Car parts from Russia sell for 10 times the price in Cuba. So for people that have enough money to buy plane tickets to Russia, they can make quite a bit of money "importing" goods this way.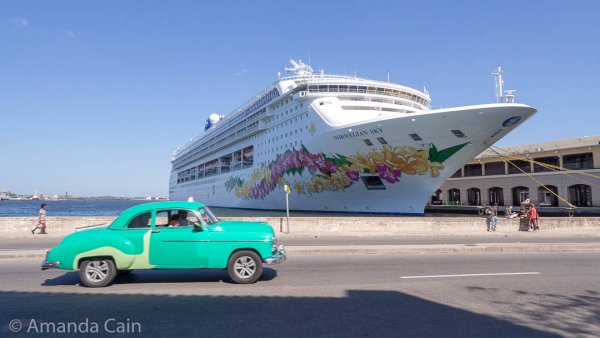 After wandering around for a couple of hours in the heat and humidity, the lack of sleep and food was taking its toll on us and we were struggling to walk more than a couple of minutes before needing a rest. Somehow we managed to stumble back to our casa for a good long siesta.
Cuban Food Breaking Free of its Communist Past
Dinner that first night was great (and for all our nights in Havana). We'd heard some pretty bad things about Cuban food being bland and basic. But the restaurants in Havana have come a long way. And the food is really cheap. I ended up getting a huge dish of delicious lobster for only $20. Pedr had stewed beef for only $8. Same for the drinks. Mojitos were only $3. And strong. Really strong. We were drunk after our first drinks. It was a really nice night to make up for the annoyances and difficulties earlier in the day.
Havana's Forts
Back to Etecsa
On our second day we thought we'd get an early start so we wouldn't be wandering around in the heat again. But first we went back to the Etecsa kiosk to tell them that we needed a new internet card because the old one had expired a few months earlier. We stood in the line in the sun for an hour waiting again for the slowest cashier in all of Cuba. When we eventually got to the front of the line the woman told us that the card wasn't expired and that we needed to use a different wifi hotspot because the one we tried wasn't any good. No new card for us. Definitely felt like we could've used that hour better. We weren't going to waste anymore time messing around with internet cards. So we hopped the ferry across the harbour to check out the old forts defending Havana.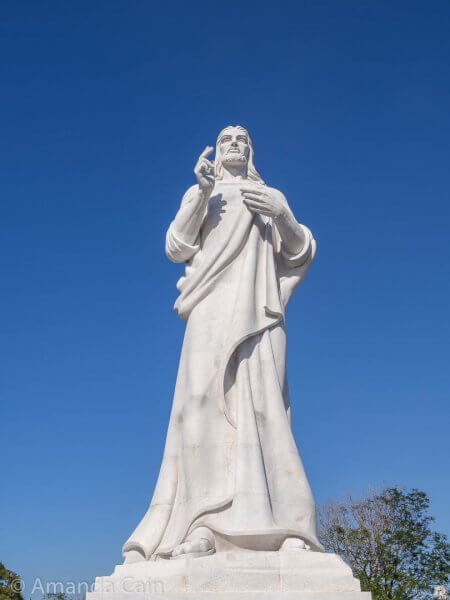 Cuban Cigars
One of the forts had a bonus exhibit: the world's longest cigar. And the man who holds five world records for the longest cigar: Jose Castelar Cueto.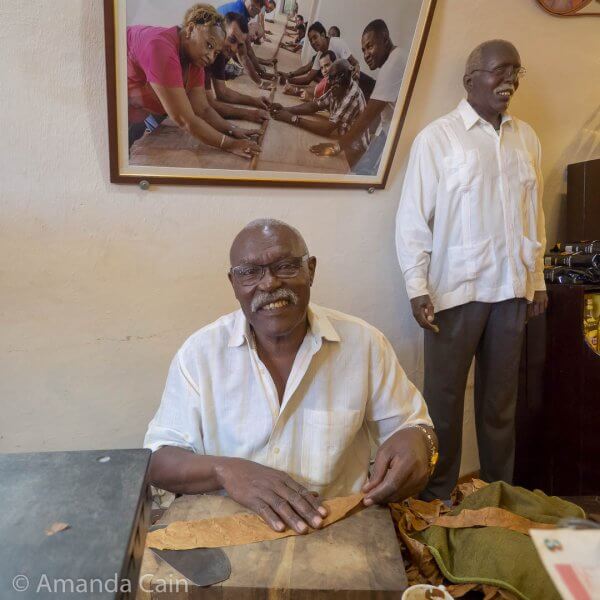 We're not sure who he's competing against but his first record breaking cigar was 11.04m long. Then this went to 14.86m, 20.41m, 45.38m to the current record of 81.80m.
La Cabaña & El Morro Forts
The forts don't have a whole lot of information about them so a lot of the trip was just wandering around looking at old cannons, walls and views over the city.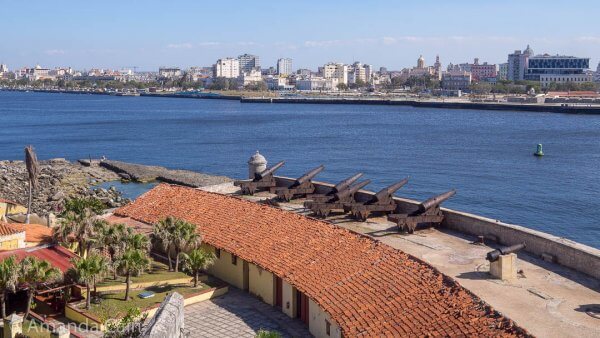 Though they did have an area showing off some old military hardware, and proudly displaying the wreckage of a downed US plane.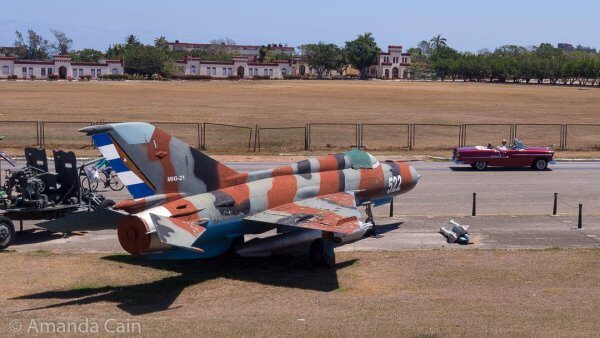 We noticed a phrase that kept popping up in the information plaques: "…after the triumph of the revolution…" Another one we saw on notice boards is things being dated: "…2018, 59 years since the triumph of the revolution…"
Dehydration Strikes Again
Unfortunately after spending several hours wandering around in the sun with no food and not enough water we ended up very dehydrated and exhausted again and quite grumpy. We were used to Mexico where they have food sellers everywhere, but in Havana they seem to be pretty scarce. Luckily we happened to wander past the Chocolate "Museum". This is where we got our first taste of government-run restaurants. Those have a deserved reputation for awful food. Luckily the iced chocolates were delicious. But they had about 10 different chocolate-based things on their menu, and when we tried to order something else were were told that there was only hot chocolate and iced chocolate. They even started turning people away while we were there because they had run out of iced chocolate.
Cuban Shortages
When I was chatting with one of our hosts that afternoon she said that shortages are still a regular occurance in Cuba. Even for basic things like soap and toilet paper. So whenever something is available in the shops she'll stock up as much as she can. She's converted one of the rooms in her casa to a mini-warehouse to make sure she never runs out of essentials. She says she's lucky because the money she makes off tourism means she has enough extra to buy up big when things are available. Other Cubans aren't so lucky. People would lose their shit in Australia if toilet paper wasn't available in the shops. For Cubans, this is a normal part of life.
A Tour of "Newer" Havana
Spending Quality Time at the Bank
For our last day in Havana we wanted to see the tombs and monuments in the Cristobal Colon Cemetery. But before we started we needed to go to the bank to change money. We were heading off to Isla de la Juventud (a remote location) to go diving (expensive) which meant we needed a fair bit of cash to cover all our expenses (our credit cards didn't work in Cuba).
What we didn't realise was that there's a limit on how much money you can change before you have to fill in extra paperwork. Unfortunately we qualified for that. I had to leave the teller and go back to the person at the entrance and ask her for the paperwork. Then she needed to talk to a different teller to ask for the folder with the paperwork. Then one of the managers questioned me on why I had so many Mexican pesos. Why didn't I have US dollars or euros like everyone else? I also needed my Cuban visa (which I'd left at home). So then it was off to the head manager. In between all of these interactions (all in Spanish) I had to wait at least 10 minutes.
So by the time I had finally changed the money (luckily we didn't have to go back to the casa) it was the middle of the day. Back to wandering around in the hot sun again.
The Monumental Cristobal Colon Cemetery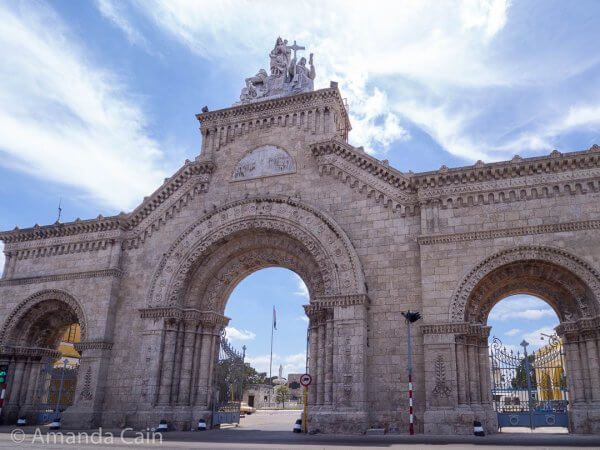 This cemetery has some seriously impressive monuments. So it's blindingly white marble in all directions.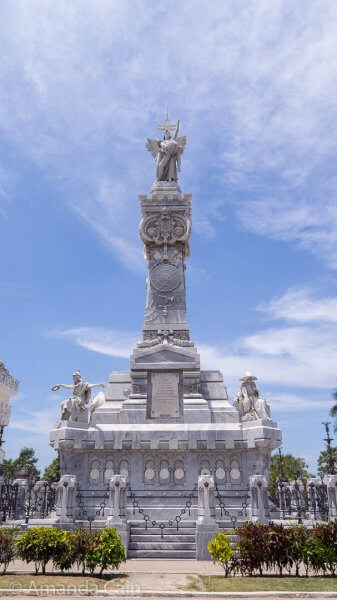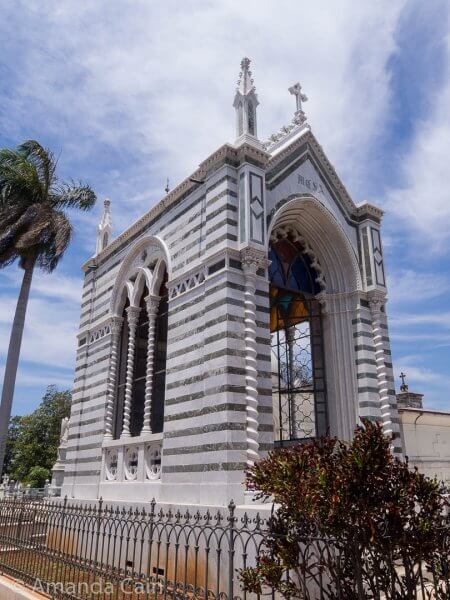 Of all the monuments the one to the firefighters is the biggest and most impressive. But we also saw monuments to medical students, specialist doctors, the Japanese revolutionaries who came to Cuba after WWII, and even employees of a famous bar.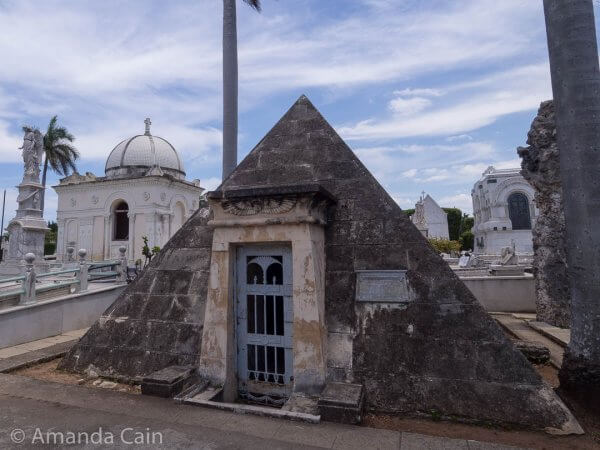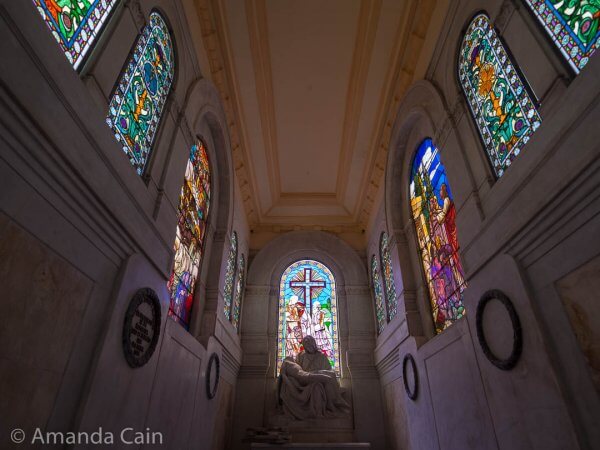 Off to the Bus Station
As expected, the cemetery didn't have much shade. So by the time we were done exploring we were seriously dehydrated again. We found a bar outside the cemetery and sat down to enjoy a cold drink in the icy air conditioning. After a while Pedr asked: "what time is the bus supposed to come?" Pretty much right after he said that we watched the bus drive past. That didn't stop us running out and chasing it down the street. But it was too late.
We had to wait another half an hour for the next one. We took the hop-on hop-off tourist bus since we thought we'd see a few other sights after the cemetery. As well as buying tickets at the bus station. When we got on the next bus we asked them which stop was closest to the bus station. They stopped the bus where it was and told us that we should get off and walk the next 2km because the bus wasn't going anywhere near it. So back into the sun and heat.
At the bus station we couldn't find anyone manning the ticket counter. Instead we were swarmed by taxi drivers. Eventually the head taxi driver got rid of the other guys and started a conversation with us. We still couldn't find anyone working for the bus company so we took a business card from him to organise a transfer from the airport to Viñales (after we got back from Isla de la Juventud). By the time we'd finished, the tourist bus had stopped running so we didn't get to see any of the extra sights on the route and had to get a taxi back to the casa.
Isla de la Juventud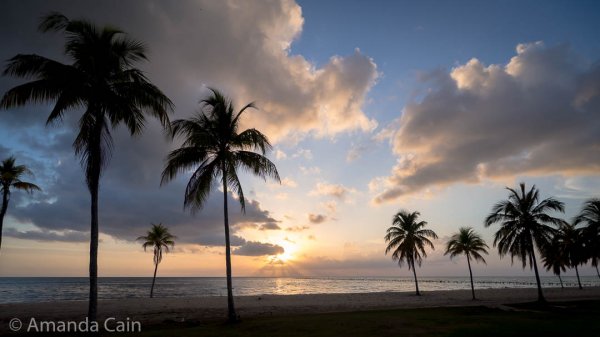 We chose this place to go diving because Cuba has a reputation for having fantastic reefs, and this place was pretty remote so the reefs were supposed to be pristine. There aren't many flights available and so we had to get up at 4AM to get to the airport in time. So once again we were suffering from lack of sleep (worse for me since I'd had a very painful sore throat for the last 5 days and kept waking up coughing). The flight itself was fairly uneventful. (Like the plane that recently crashed in Cuba, our one was pretty old and "well-loved", but fortunately nothing dramatic happened on our flight.) And at the airport it was time to wait as they unloaded one bag at a time again. I'm pretty sure I could've unloaded the plane faster on my own.
Enforced Island Relaxing
Once we arrived at the hotel they told us that because the dive sites are a long boat ride away they don't take the boat out unless there are 3 divers (or more people going snorkelling/fishing). Later that afternoon we met the guy from the dive shop and he said that there were no other divers coming the next day so we wouldn't be going. My throat infection had spread and now my sinuses were all blocked up. Which meant I couldn't go diving. So now we needed two extra divers to get the boat to go out. The day after it was the same story. No other divers on the entire island. So there was a lot of sitting around the hotel not doing much for a few days. There were a couple of sunken ships nearby so we could at least go snorkelling one day.
The Restaurant that Lives up to the Reputation: Hotel Colony
Because this hotel was in the middle of nowhere, we were stuck eating at the hotel restaurant for breakfast and dinner. If you think hotel restaurants in most parts of the world suck, let me tell you now that they have nothing on a government-run hotel in the middle of nowhere in Cuba.
Breakfast was stale cereal, old bread rolls, eggs and tinned fruit. Dinner was the same old bread rolls, tinned beans, tinned beetroot and tinned carrots. We also had meat and rice. The menu had about 10 things to choose from in the "meat and rice" category, but in reality only 3 things from the menu were available: a hunk of chicken, a hunk of pork or more eggs. There were theoretically different ways of serving the hunk of meat, but that just meant that they put pieces of tinned pineapple on top of the hunk of meat. This is the crappy Cuban food that people complain about.
Off to the Reef
Finally on our last day on the island they'd managed to find enough people to take out on the boat so Pedr got to do a couple of dives. He said that the corals were pretty healthy with quite a few fish swimming around. We were also lucky enough to get flying fish jumping out of the water. They don't just jump, they do fly. They can fly for 100m and change directions in the air before going back in the water. They're probably our favourite fish.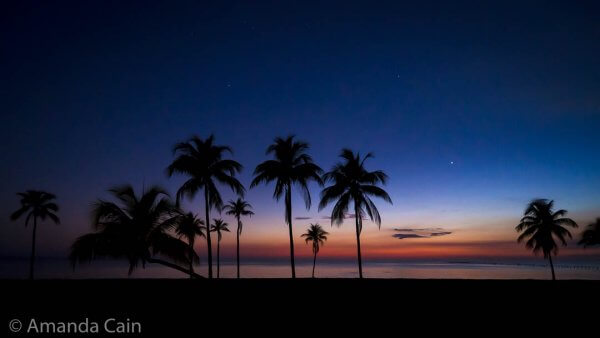 Fail Recount
So after 4 days on Isla de la Juventud we finally got to see the reef. Overall it was a bit of a dive fail. As we got up at 5AM to get our early morning flight back to Havana we were getting worried about what was going to be waiting for us when we met up with the pushy taxi driver. Was he going to screw us over and tell us that we had to pay double for our trip? Or were we going to have to pay through the nose to go back to the bus station and try again to find an employee that could sell us bus tickets instead?