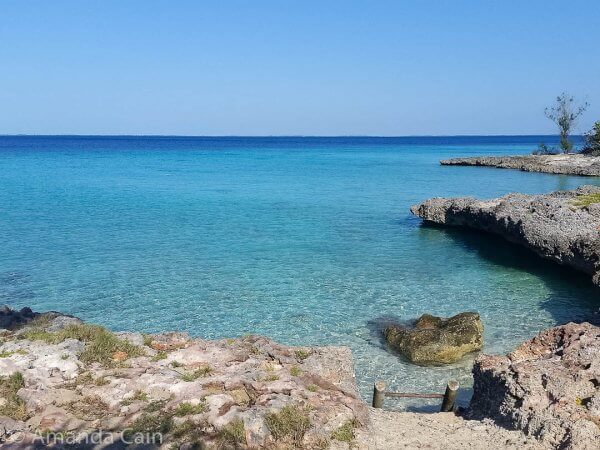 So after our slightly disastrous first week in Cuba, our second week began with us arriving at Havana airport to meet our pre-arranged taxi to Viñales. We organised it with a very pushy taxi driver boss. And we were a bit worried he was going to try and screw us over. Fortunately none of that happened. Our driver was so worried that he'd missed us that he convinced the security guard at the airport to let him into the baggage claim area to see if we were there. (We were, we were just waiting for our bags to come off the carousel one at a time.) Then we met our companions for the trip: a friendly Canadian couple. So we spent the whole two hour drive happily chatting away while the Cuban countryside flew past outside our classic American Franken-car.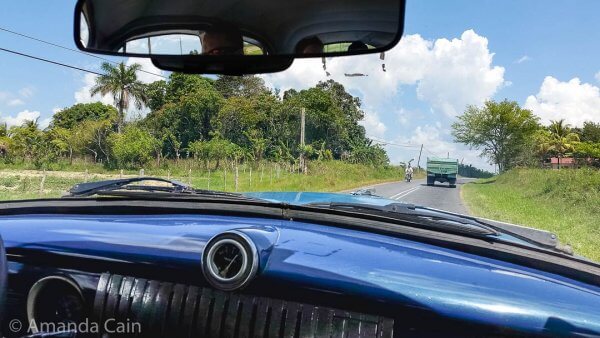 Viñales
Once we arrived at our casa, our hosts were waiting for us. They ushered us inside to settle in with a big jug of cold mango juice and refreshing mojitos after the hot drive. (Our particular Franken-car didn't have a very good engine cooling system so I was "enjoying" a sauna in the front seat as we drove down the highway.) They also organised our transport leaving Viñales and called the next casa we were staying at to let them know the details. Now we had nothing else to worry about.
So we just sat on the porch relaxing in rocking chairs with the best mojitos we've ever had, and watching hummingbirds in the garden. We had our dinner at the casa, prepared by our hosts. They must've thought we were starving because our table (big enough for four people) was completely covered by food. And it was pretty tasty too, with fresh everything! Way better than anything from a government run restaurant (I'm looking at you Hotel Colony).
Valle de los Acuaticos
The next day we went off on a walk through the countryside around Viñales. The area is famous for its red earth and green valleys in between lumpy limestone formations. (We arrived at the end of the dry season, so the valleys weren't quite as green as the promo photos.)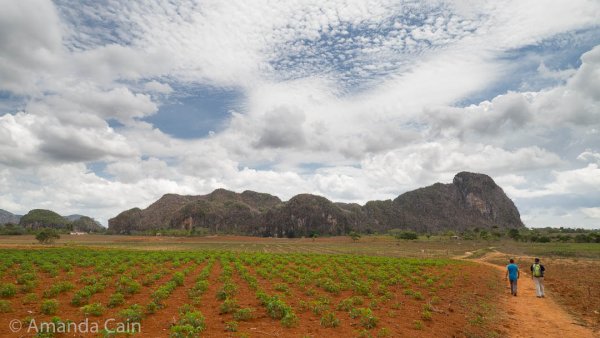 Cuban Tobacco
In the valleys the main thing that they produce is tobacco. We didn't see any tobacco fields while we were there (wrong time of year). But we got to see a drying house for the tobacco and a farmer explained the process of tobacco growing and cigar making.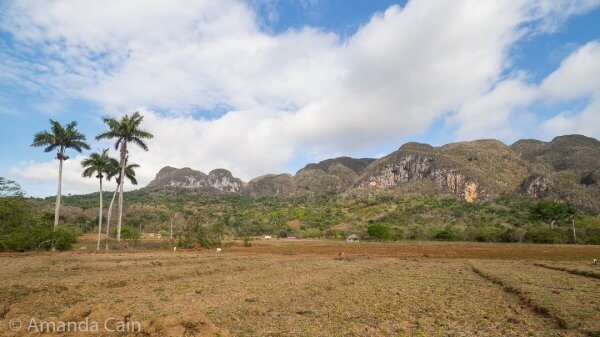 Drying
The tobacco plants grow very quickly, it only takes 3 months for them to reach full size. Once they've collected all the leaves they hang them up in the drying houses for 3 months.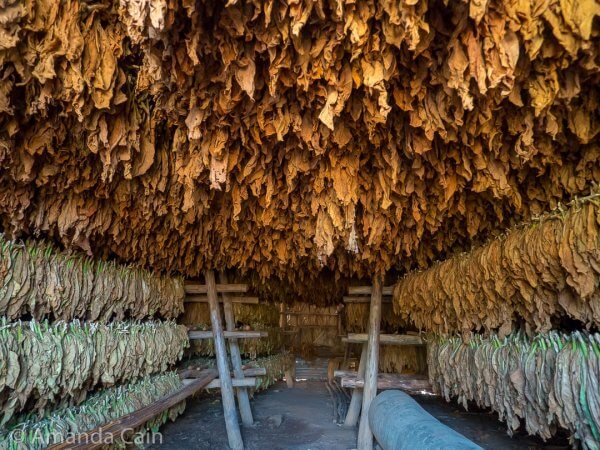 Because Viñales produces the best tobacco in the country, the government forces the farmers to sell 90% of their produce to them. And the other 10% they can only sell locally (either to Cubans or to tourists visiting the farms). Unsurprisingly the government doesn't give the farmers a very good price for their produce.
Fermentation
But the cigars made by the farmers are considered better than the ones produced in the government cigar factories. This is because the farmers take 12 months to ferment the leaves after drying them, rather than the 3 months in the cigar factories. They treat the leaves with certain chemicals to speed up fermentation, and these give the cigars a bad flavour. Whereas the farmers spray their leaves with a "tea" of spices and oils (like eucalyptus, honey & cinnamon) which adds nicer flavours to the tobacco. This was the original process used by the native people.
(As non-smokers we can't verify how much of a difference this makes, so we have to take their word for it. But the smell of the smoke from the farmer's cigar did smell better than other cigar smoke I've smelt, and way better than anything coming from a cigarette.)
Cigars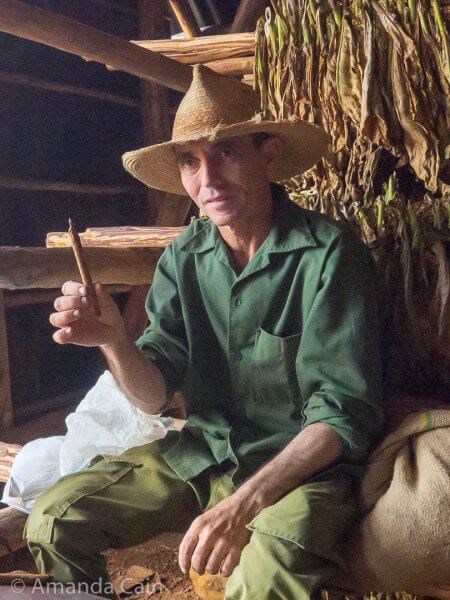 The cigars he offered us for sale were pretty damn cheap, only $3 a cigar. They also said that if you want to bring Cuban cigars to the US then buying them off the farmers was the way to do it. This is because they're unbranded and the authorities can't prove that they came from Cuba. We spent quite a bit of time trying to think of anyone we knew that smoked to get them a present. But couldn't think of anyone. So the anti-tobacco campaigners in Australia would be very happy to hear that.
View of the Valley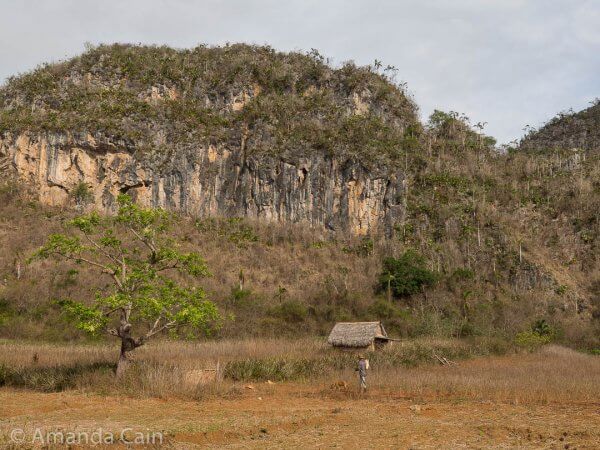 After our stop at the drying house we continued our walk through the valley and saw plenty of farmers plowing and preparing their fields the old fashioned way: using animals. This is because of the sanctions, since machinery is expensive to buy and maintain. All along the highway to Viñales we passed plenty of horses & carriages. And in Viñales there are horses everywhere (the majority not being used for tourists). Animals are much more reliable than machinery in Cuba.
After a hot and sweaty hike up a hill we could finally get a good look over the whole valley while kicking back with coconuts and enjoying the sounds of birds in the trees.
Cueva de los Palmaritos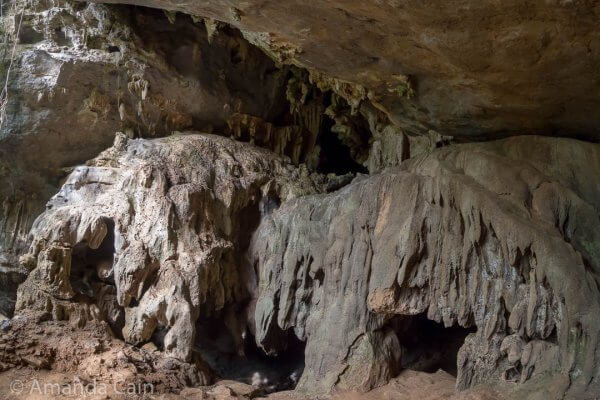 The next day we took another walk through the countryside. This time to a cave with a large pool inside it. After walking through the hot and sticky morning I wasn't going to hold back, so I jumped in for a swim. Pedr, not liking cold water, decided that he'd just sit it out and stay sweaty.
After our little cave adventure we went off to check out the viewpoint over the town of Viñales. We got lucky with our timing, because we decided to turn back when the clouds started to look a bit threatening. Two minutes after we arrived back at the casa the heavens opened up with lots of thunder and lightning and didn't stop until we went to bed that night.
Our Scariest Taxi Ride
After a night of solid rain we had a break in the morning as we set off for our next stop: Playa Giron. The first half of the trip went well. We were in a fairly modern Peugeot from the 80's. But on the outskirts of Havana we had to change cars for the second half of our trip. Our next driver wanted to push his car as hard as it could go and overtake as many cars as possible. As if slowing down meant that the car might stop and never start again. Unfortunately this was also the time that the heavy rain picked up again.
Once we got to the turnoff at Central Australia things got very hairy. (Yes there is a place in Cuba called Central Australia. It was Fidel Castro's headquarters directing the Cuban army in the Bay of Pigs Invasion.) Here the road was an old country road with potholes, and completely flooded in some parts. The rain got even heavier here and reduced the visibility down to 10 metres. But our driver didn't seem to slow down at all. Not even after aquaplaning several times. After a 60 minute nail biting journey we somehow arrived safely in Playa Giron at the entrance to the Bay of Pigs.
Playa Giron: Eat. Dive. Sleep.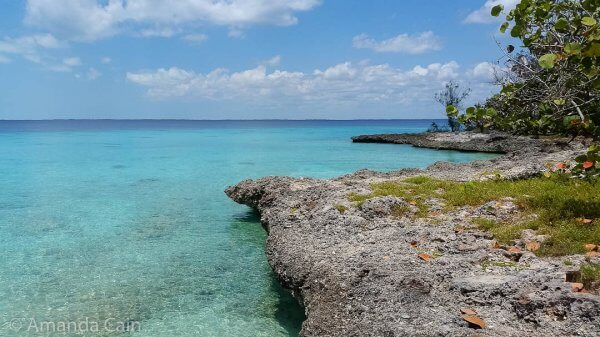 When we woke up the next day we had glorious blue skies with fluffy white clouds drifting along. A very welcome change since we came to the Bay of Pigs to go diving. Turns out that this may be one of the cheapest places in the world to go diving. We paid US$25 per dive, with all equipment and transport included. (In Mexico the price is double that.) But the equipment is pretty old. Our guide reassured us that we shouldn't worry about the slight hissing noises we could hear from different parts of our equipment: "This is Cuba, everything leaks!". So off we went into the sea, with bubbles trailing out of various parts of our equipment.
The corals and reef in the Bay of Pigs are all very healthy and we saw lots of beautiful huge fan corals waving around in the currents, some really big pipe-like corals (including one big enough to put your head inside), as well as quite a few colourful fish. One of the dive sites has you swimming along next to a wall of coral before getting to a sandy slope going uphill. As you swim up you come across the the shipwreck of a small fishing boat towering above you. It's very strange coming to a shipwreck from below rather than diving down from the surface.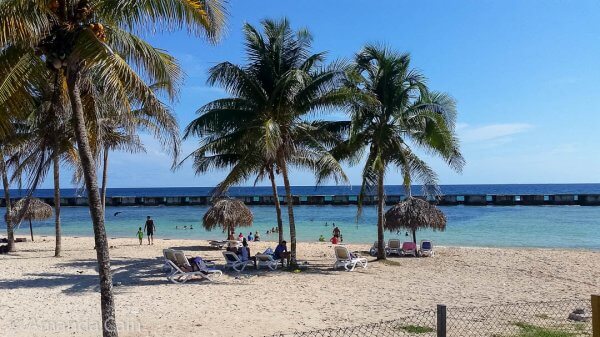 Ol' Clanky
Our transport (Ol' Clanky) arrived on the first morning in a cloud of black smoke and sputtering like an old tractor on its last legs. We're not sure what kind of vehicle it was originally, but it had been painted blue with pictures of fish and was now the dive bus. It was definitely the least reliable Cuban Franken-vehicle we'd been in. It broke down repeatedly, black smoke belched out everytime it changed gears and it regularly needed push starts. We even had a busload of tourists get out of their bus to take pictures of it as we went past.
It wasn't until the second day that we gave it the nickname Ol' Clanky. As we were leaving the dive centre that day, the bus completely died. The guys tried push starting it while the driver fiddled around with various things inside the engine while he was trying to start it. But all he could get was a bunch of clanking. We even had a passing minibus stop and towed the dive bus while they tried to get it to start.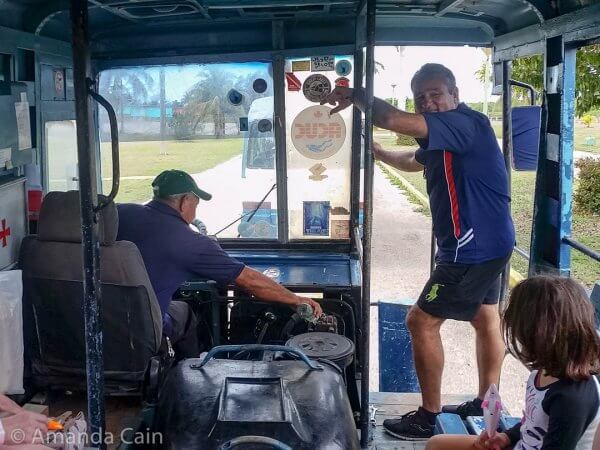 But in the end it wasn't enough, Ol' Clanky had clanked his last so we had to get off and get into the minibus to take us to the dive site.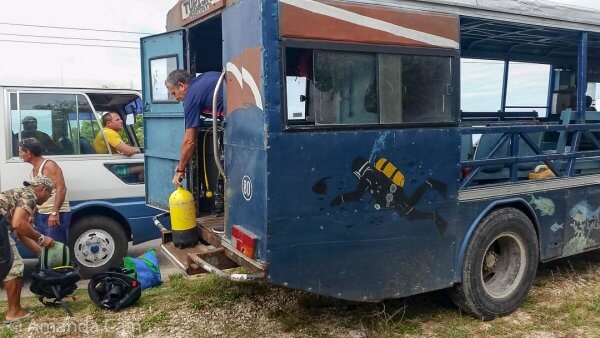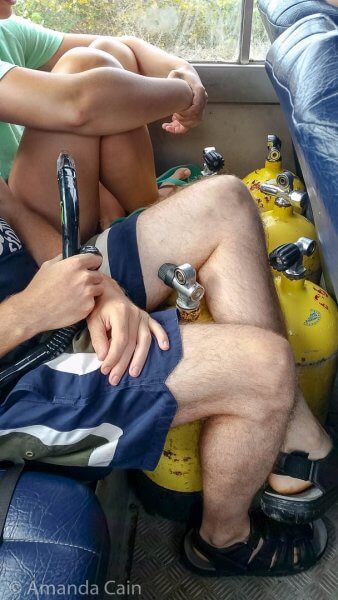 But we don't think that will be the end of Ol' Clanky, we're sure he'll be back again with some new (or old) mismatched parts from Russia or China.
On to Cienfuegos
After three fantastic days of diving we were sad to say goodbye to the Bay of Pigs. This was probably our favourite place in all of Cuba. Our next stop was the city of Cienfuegos. This time we could finally buy bus tickets. It's interesting how things work in Cuba. Because goods are hard to come by, disposable single-use items are not that common. Or if they do have them then the Cubans will try to reuse them if possible. This includes bus tickets. So they give you a small piece of paper and you write your name, the date and destination in pencil. You then show this to the driver, and then he gives it back to the person at the ticket office so they can rub out the pencil writing and then use the ticket for the next person.
Mansions and Palaces of Cienfuegos
Cienfuegos is a small city that's famous for its historic centre which is filled with beautiful mansions and palaces and other buildings. And like Havana, some are in excellent condition while others are crumbling around the edges. Overall they do seem to be in a better condition than the ones in Havana, we didn't see many that were actually falling to bits.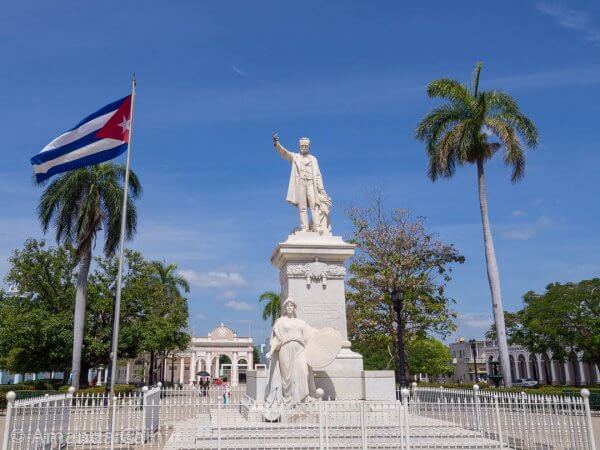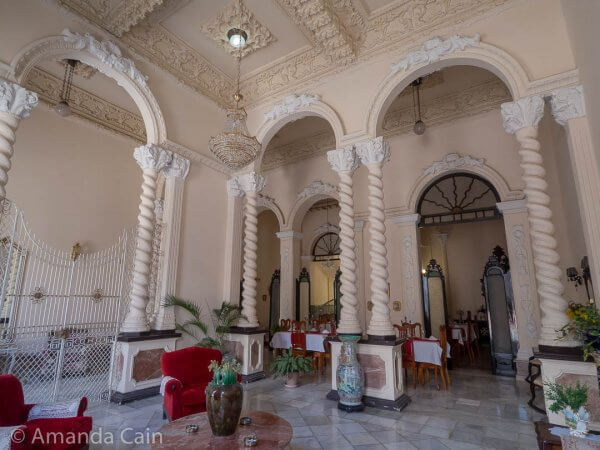 Probably the most impressive of all the mansions is the Palacio de Valle, built to look like a Moorish palace from southern Spain.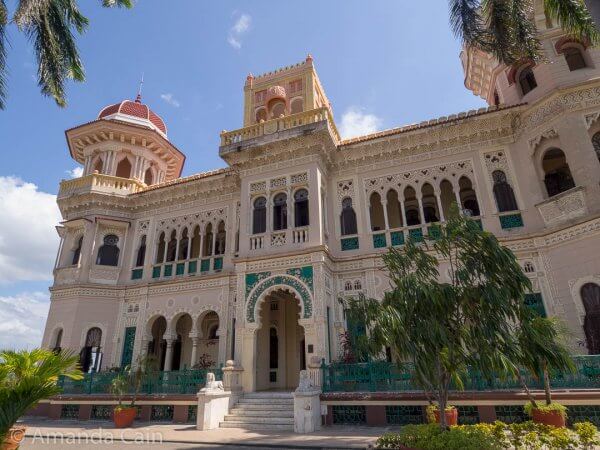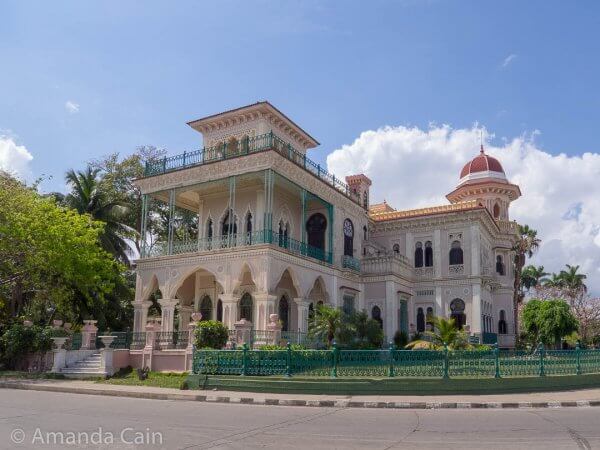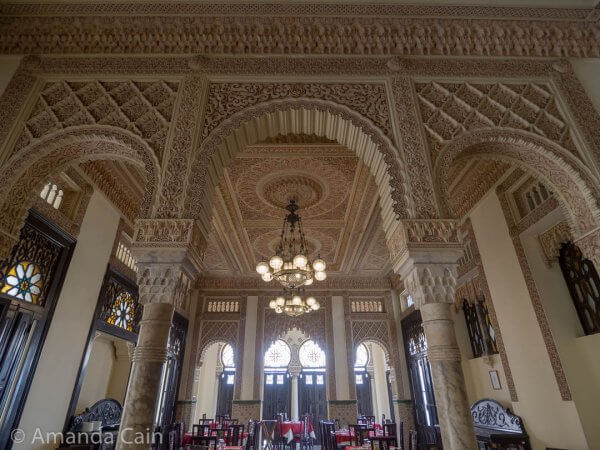 No More Fails
Well apart from the suicidal taxi driver who didn't think that torrential rain wasn a reason to slow down, our second week in Cuba was a great success. No hassles or headaches, we saw some awesome stuff and had the best mojitos we've ever had. Week 2 = success!